Long Island Rail Road
Babylon Branch
on the SubwayNut
Stations
Service every 30 Minutes or better
The Babylon Branch is the Long Island Rail Road's Busiest Branch with 68,250 daily riders each of Jamaica. It is also the only Long Island Rail Road branch that is fully grade-separated, nearly entirely on a concrete arial guideway or embankment. The line is the current name for the electrified portion of the Montauk Branch running approximately 27 miles near the South Shore between Jamaica and Babylon, with nearly all service continuing the 11 miles along the Main Line into Penn Station, during rush hours there is also service into Atlantic Terminal.
Riding it, making frequent stops on 12 car MU trains, at elevated concrete island platformed stations (every stop on the branch is an island platform) really reminds me of riding the suburban portions of BART in the San Francisco Bay Area with veiews looking down on suburban homes and parking lots. Service on the line is generally every half-hourly or better (although COVID-19 related service reductions have reduced weekend service to hourly) throughout the day to match the lines high ridership. There are even off-peak express Babylon Branch trains (generally only stopping at Freeport or also Seaford and Amityville), these are express trains to Babylon that at some hours connect with diesel Scoot Shuttle trains to Patchogue and Speonk on the Montauk Branch. During rush hours trains run in four distinct zone express sections for faster service supplemented by all stop local trains running generally into Atlantic Terminal.
The branch was fully electrified to Babylon on May 21, 1925. Eliminating all grade-crossings was a three-decades long project with Massapequa first grade-separated in 1953, and its neighboring station Massapequa Park seeing the final grade-crossing eliminated in 1980 (See individual station pages for exact years).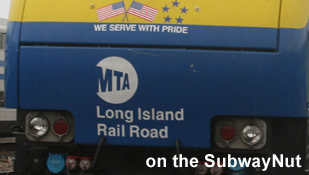 Last Updated:20 February, 2021
All photos are by Jeremiah Cox
This website is not allifiated with the MTA Long Island Railroad, their official website is here
This Website is maintained and copyright © 2003-2021, Jeremiah Cox. This website is not affiliated with any transit provider. Please do not remote link images or copy them from this website without permission. Contact the Webmaster