When I visit new stations there are some that I thoroughly research, there are others that I visit more spontaneously, particularly when Louise and I make road trips, Durand–(78 photos) was as one of these stations and looked so impressive that we came back for a thorough visit the following summer.
Just over a year ago for Thanksgiving 2018 (one that I will always remember as the last one with my grandmother) we drove back from Syracuse via Southern Ontario (it adds about an hour, depending upon border crossing times, but is much more interesting) and made an evening stop in Durand, MI so I could get the train station. I had us park in downtown where there was a bunch of railroad cars on display in a small park.
I then found the train station across the tracks, but couldn't walk to it, with the grade crossing closed off.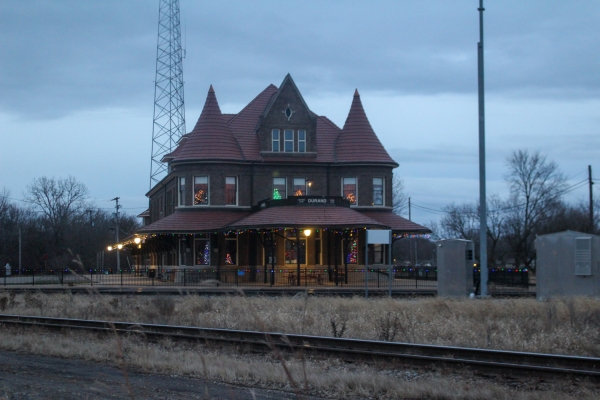 So I returned to the car so we could drive the 3 rights to the impressive station that is also a railroad museum, although the waiting room was closed since it was about 5:00ish, long before the 9:24pm stop of the Blue Water. I could see an impressive number of Christmas Tree nicely lit inside.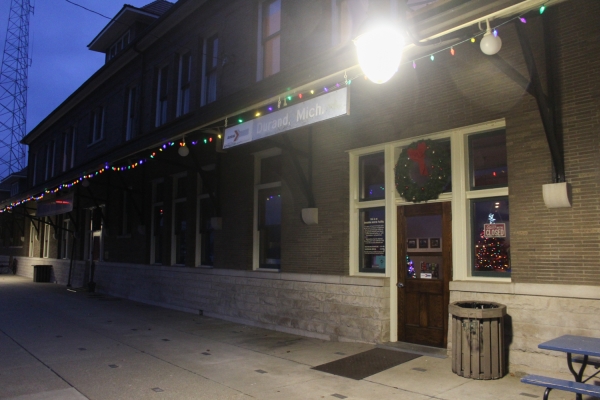 After seeing just how impressive the Durand Station was, we decided to work it into our Summer roadtrip plans – the rest of this trip involved going to a leather goods store just up the road in Vernon, MI, and going down to Detriot for some specialty shopping – and headed back up there on a Saturday afternoon when the entire museum would be open. There are two separate historical societies (focusing on the Grand Truck Western and Ann Arbor Railroads) who's small rooms with memorabilia and some unique merchandise, along with the model train room, are only open on Saturday afternoons. The museum impressed both of us with various displays covering the history of railroading in Michigan, including the uniqueness of running ferries in all seasons across Lake Michigan, along with seeing the scale of the station with two floors and how it had been restored and reused.
I also can't think of a finer small town station in terms of the size and information in the waiting room to wait for an Amtrak train, complete with multiple pianos just sitting in the waiting room.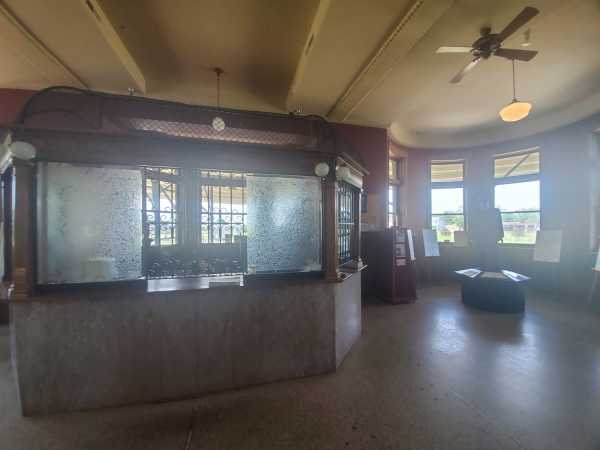 Enjoy!