With the new Disneyland Flex Pass, Louise and I are currently Disneyland annual pass-holders and have been heading out to Orange County every chance we get (this has been our 3rd trip since August). Ideally we would fly into the John Wayne Airport every time, but flights there are generally much more expensive. This trip coincided with the new LAXit process, requiring you to take a shuttle 'trolley' (manufactured in Elkhart County) to a parking lot to catch an Uber or Lyft.
On this 3 day trip, 4 night trip (November 1 to 5, I have Election Day off from work) we actually followed the same exact travel itinerary there and back (which basically never happens, since we so often fly out of Chicago, into South Bend, change planes at different airports, ect.):
The Transpo Route 4 bus to/from the South Bend Airport
A United Express (a super comfortable EMB 170 outbound, a less comfortable CRJ-200 on the way back): South Bend to/from Chicago O'Hare, a joke puddle jump flight.
A mainline United Airlines (757 on way there, most uncomfortable seats ever, better 737-900 on the way back) O'Hare to/from LAX
The LAX Route G Parking Shuttle to/from the Aviation Green Line Station, got a seat both times, faster service inside the new LAX buses only bus lane on the inner horseshoe because of LAXit is a great improvement!
The Green Line (a single crowded newer P3010 car on the way there, a less-crowded two car P2000 on the way back) between Aviation/LAX – (12 Photos) and Norwalk–(17 Photos added)
An Uber (for ~$25 instead of ~$50 each way) to and from our hotel, the DoubleTree Suites
In terms of this website, the Green Line rides were the highlights, on our way to Disneyland, we rode on a crowded single car P3010 (this is 20 minute frequency) after 10:00pm that had some colorful characters aboard and Louise was happy she wasn't alone on the ride. I also enjoyed getting some photos of the P3010 seat moquette, that is a neat design: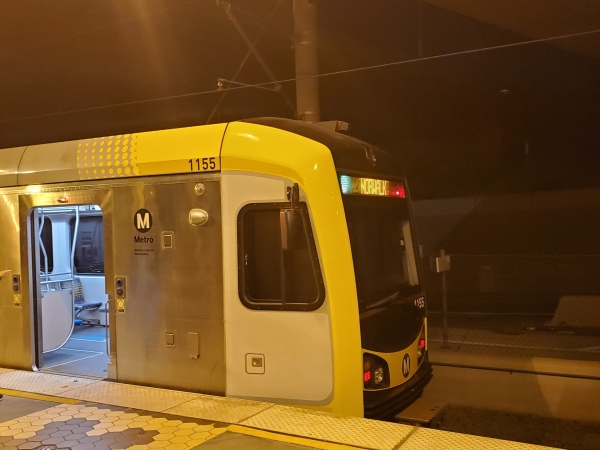 On the way back we, took an older P2000 that was less crowded (around 9:30am). There wasa some confusion at Norwalk because when we arrived there were two trains in the station, one had its headlights on for Redondo Beach, the other still said Norwalk. The LA Metro needs real next train indicators on the platforms, we boarded the wrong train, had our friendly Metro driver point at our train and we were on our way.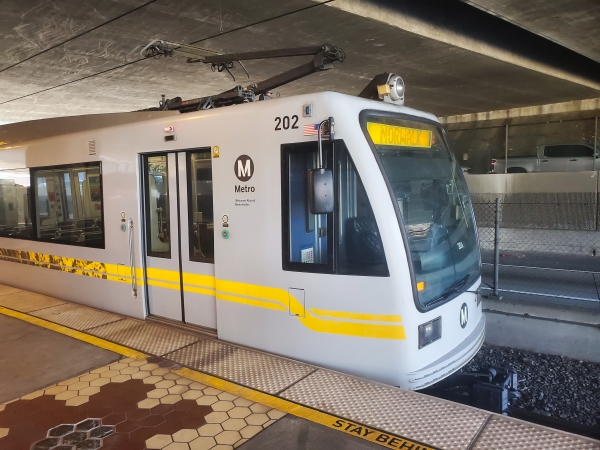 The moquette of the P2000 is also unique:
We got to the Aviation/LAX – (12 Photos) and left the platform at the western end which has a great view of the Crenshaw Corridor's new interlockings onto the Green Line.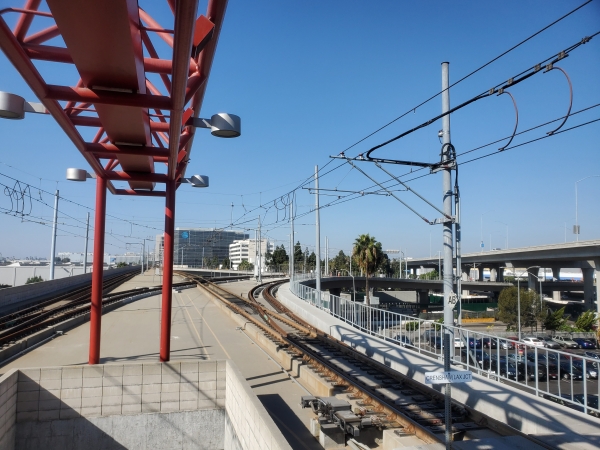 We headed downstairs to the bus stop, where a bus was waiting that we took around the horseshoe, a much faster ride than on previous trips, due to the new airport buses only lanes to United's home at Terminal 7, the last stop on the one-way loop.
We had a long flight on a still Direct TV equipped United 737 (but the live TV wasn't working) followed by the puddle-jumpper 22 minute United Express flight. When we got to the gate in South Bend early at 9:23 pm (scheduled for 9:38pm), I realized we had perfect timing to catch the last Transpo Route 4 bus home at 9:38p. As we headed out to the bus stop by the South Bend Airport South Shore–(4 Photos) platform, I was in for a nice surprise, a train of Highliner II cars sitting in the station, that arrived at 9:03 and were waiting for their in service stub-run to Michigan City at 9:40. These BiLevels, which the South Shore only has 14 of I've never ridden, and have been told that they don't normally run them to South Bend due to power issues. I hope these cars going to South Bend become a thing.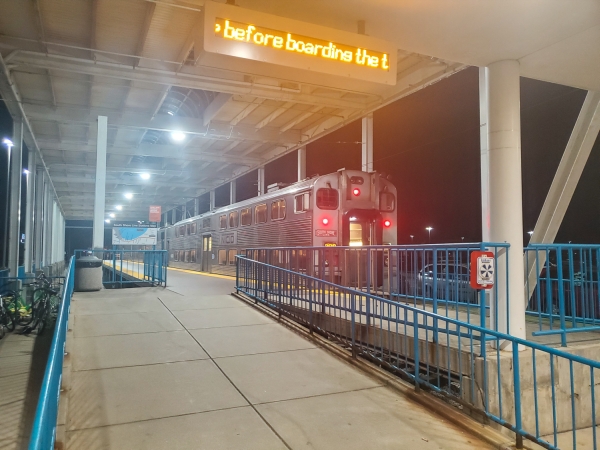 The Transpo Bus came in a few minutes early and ran early for our quick trip home, deploying the ramp for a wheelchair and the driver warning us it was the last bus of the night.
Until next time!