Suffern

Mahwah
Suffern, NY is a train station stuck between two state jurisdictions. It is located in New York State but operated by New Jersey Transit with New Jersey Transit signage and staffed for one morning shift a day by a New Jersey Transit ticket agent. Signs for the station on nearby roads are in the Metro-North format and look like the signs for any other Metro-North Station. The reason for this confusion is this station is where the New Jersey Transit's Main and Bergin County Lines end that provide hourly or better service with these routes main yard, the Suffern Yard located just north of the station (and nicely visible from the New York State Throughway) continuing service north of the station is provided by Metro-North's much less frequent Port Jervis Line with through trains to and from Hoboken mostly running as non-stop or couple stop expresses (most trains also stop at Ramsey Route 17) south of here although a few trains are simply extensions of Bergen County Line Trains.
Until 1941 the station was located a quarter mile north of todays station where the former (now just a long industrial track) spur track led to Spring Valley and connected to the Pascack Valley Line. The original depot was torn down but the smaller Wells Fargo Mail Depot exists to this day and is home to the Suffern Railroad Museum celebrating this town's heritage with the railroad. Parking lots surround this area and are used by the Suffern Municipal Parking Authority for railroad commuter parking.
The station itself is a simple two tracks with two 5 car low-level side platforms. The station is located at grade-level with both platforms beginning with an enclosed by black canopies and clear walls staircase from the underpass of Chestnut Street and running south. The Port Jervis-bound platform is extremely simple with a single double-wide with doors bus shelter for waiting passengers. Orange Avenue (US-202) is directly parallel and at the same level as the platform but a fence (with a locked gate) keeps pedestrians from reaching this street (Chestnut Streets underpass of the tracks also passes under this street) and all access is via the single staircase at the northern end of the platform down to Chestnut Streets underpass that is also the station's crossunder. This warrants an obnoxious station access award.
The station's closest to the platforms 116-space parking lot (NJT's website http://www.njtransit.com/rg/rg_servlet.srv?hdnPageAction=TrainStationLookupFrom&selStation=144&x=51&y=9 lists 6 possible parking lots scattered throughout the village) is directly along the Hoboken-bound platform and extends back to Ramapo Avenue. For waiting passengers a modern canopy structure in the same Metro-North design as those found at Port Jervis Line stations farther north provides shelter over more than half of this platform. A small medallion in the middle has a sketch of a grander predecessor station. Set back from the northern end of the platform is the stations simple wooden with wood paneled exterior walls and brown trim station house. It seems like a hastily built building during World War II supply shortages. Inside the station is the still open for one morning shift (6:30am to 1:30pm) ticket office and a couple of wooden benches, along with a single unisex restroom.
The Hoboken-bound platform has a walkway that extends along what was once the trackbed perhaps or provisions for a third track over Chestnut Streets underpass and leads to a short walkway to a wooden staircase down to a second, larger 181 space parking lot.
Photos 1-9: 29 May, 2008; 10-61: 4 June, 2013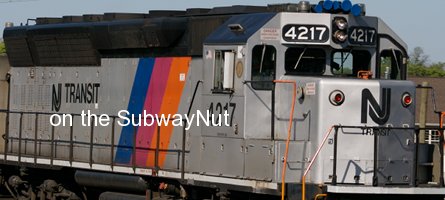 Last Updated: 19 July, 2015
This website is not allifiated with New Jersey Transit, their official website is here
This Website is maintained and copyright © 2004-2023, Jeremiah Cox. This website is not affiliated with any transit provider. Please do not remote link images or copy them from this website without permission.