Sloatsburg is the first stop on the Metro-North Port Jervis Branch, Suffern, 4 miles south of here is also located in New York State but is directly operated by New Jersey transit since it's where the Main/Bergen County Lines yard is, these trains terminate has more frequent hourly or better service. It's the only Port Jervis Line Stop in Rockland County.
The stop is extremely simple but unlike many Port Jervis Line stations is in the middle of a small village. It consists of a short two-car low-level platform with older Metro-North generation long and narrow florescent tube light posts. There is a single black double-wide bus shelter with doors that contains the stations only TVM, a glass information board and a recycling center. The platform begins at a grade crossing (with a ramp up to the sidewalk-like platform) where Municipal Plaza becomes Ballard Avenue. Two short staircases, one in the middle and one at the southern end lead to short paths to Mill Street, parallel to the platform. Just south of the station is the station's small 80 space parking lot, run by the Village of Sloatsburg with weekday parking primarily by permit only ($15 per month for residents, $26 for non-residents) with $6 day permits available in Village Hall (8am to 4pm)
All Photos taken on 4 June, 2013 on a visit by bicycle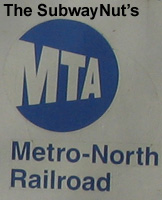 Last Updated:13 July, 2015
All photos are by Jeremiah Cox
This website is not allifiated with MTA Metro-North Railroad, there official website is here
This Website is maintained and copyright © 2003-2023, Jeremiah Cox. This website is not affiliated with any transit provider. Please do not remote link images or copy them from this website without permission.