Reservoir is the stop for the 'D' Branch on the south side of the Reservoir Yard and Car House. The Cleveland Circle terminus on the 'C' Branch is at the northern end of this yard so the stop is an unpaid transfer point. The 'B' brach also has a connection to Chestnut Hill Ave a five minute walk north of the station that has a track connection frequently used for yard moves. The station itself has two side platforms with tactile warning strips and full canopies over both platforms including on the entrance staircases. The inbound platform has the Charlie enclosure and another bus type shelter for more amenities for waiting passengers. The main entrance is to a staircase up to the east side of Chestnut Hill Avenue with a small bus loop. Wheelchair access is via a separate walkway from Chestnut Hill Avenue to a walkway along some yard tracks to the outbound platform. To reach the inbound platform there is a gap in the fence between tracks preventing pedestrian crossings except at their inbound end. To reach the trains the outbound platform hasa mobile lift and the inbound a mini-high platform ramp.
Photos 1-8 taken on 29 June, 2011, 9-13 on 16 December, 2011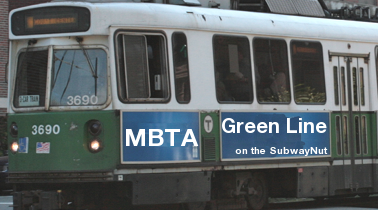 Last Updated: 7 July, 2011
This website is not affiliated with the Massachusetts Bay Transportation Authority. Their official website is here
This Website is maintained and copyright © 2011, Jeremiah Cox. Please do not remote link images or copy them from this website without permission.