Chestnut Hill is the first stop on the 'D' Line on the outer portion of the route. Here, before 2007 when fare zones were eliminated, the inbound fare rose to $3, while outbound fares from here were free, passengers traveling inbound intermediately between Reservoir and Chestnut Hill could get a confusing coupon for future local travel. The station has two side platforms that are not accessible with no tactile warning strips. The inbound platform has the two amenities for waiting passengers, the original wooden enclosure and the modern Charlie enclosure. Station access through a small parking lot along the outbound platform via a few steps, via a longer staircase from the outbound platform up to Hammond Street's overpass above the outbound end of the station and a footpath to the inbound platform from Middlesex Road.
All photos taken on 16 December, 2011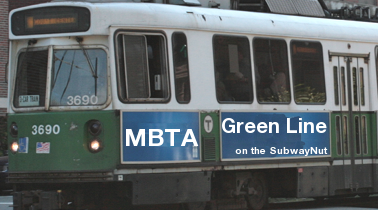 Last Updated: 22 December, 2011
This website is not affiliated with the Massachusetts Bay Transportation Authority. Their official website is here
This Website is maintained and copyright © 2011, Jeremiah Cox. Please do not remote link images or copy them from this website without permission.