Cleveland Circle is the terminus of the C branch and consists of two side platforms in the median of Beacon Street just north of the Riverside Car house, the main place where Green Line LRVs are stored and maintained, with the tracks continuing beyond the station to reach it. One platform has an old wooden mini-high platform for ADA access. Trains reverse beyond the station either looping or using a switch between the two tracks. The inbound platform has a small canopied bench. Reservoir Station is just across the train yard on the 'D' branch and its private ROW is a much faster ride into Boston. Tracks not used in regular run north in street in Chestnut Hill to provide access to the 'B' branch, two blocks north forming a wye around the Chestnut Hill Avenue stop.
Photos 1-8 taken on 29 June, 2011, 9-11 on 16 December, 2011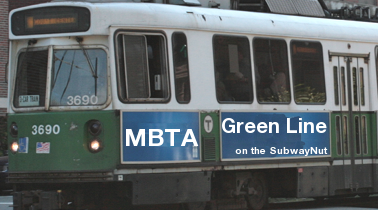 Last Updated: 5 July, 2011
This website is not affiliated with the Massachusetts Bay Transportation Authority. Their official website is here
This Website is maintained and copyright © 2011, Jeremiah Cox. Please do not remote link images or copy them from this website without permission.