Long Island Rail Road
Hempstead Branch
on the SubwayNut
Stations
Off-Peak Service every Hour

To Atlantic Terminal
The Hempstead Branch is the Long Island Rail Roads lowest ridership branch to see daily hourly or better service. Trains run intto Atlantic Terminal at all times except for some weekday peak hour trains to and from New York-Penn Station, and late-night trains to and from Jamaica when service to and from Atlantic Terminal is suspended. The branch saw 14,660 daily passengers in 2017, slightly under the Far Rockaway Branch, that provides the other hourly (making off peak service half-hourly) service between Jamaica and Atlantic Terminal. This fully electrified branch (electrified in 1908) runs for 5 of its own miles curving off the Main Line at Floral Park and is largely two tracks, except for single tracking for about the final 1.5 miles from Garden City (including through the Country Life Press Station) and into Hempstead where there are 4 platforming tracks and an additional 4 tracks that make up the Hempstead yard. This single-track section of the branch is the portion of the line that curves south off the freight only Garden-Mitchell Field Secondary track. The independent portion of the branch is largely at grade with 5 grade-crossings.
Although the Hempstead Branch shares its first 6 miles from Jamaica to Floral Park with the Main Line. It provides nearly all service to Hollis, Queens Village, Bellerose and Floral Park (just a few Peak trains in the AM rush hour only to and from Huntington on the Port Jefferson Branch also make some of these stops) the line doesn't take up any Main Line capacity, because when it joins the Main Line it provides an extra two Main Line tracks, with the railroad having 4 tracks between Jamaica and Floral Park. This is because Hempstead Branch trains share the 4 tracks with the Main line (Hollis and Queens Village have outer side platforms) until the Queens Interlocking, between Queens Village and Belrose (where the Belmont Park branch curves south in the middle of the interlocking) where the Hempstead Branch tracks become independent, at Bellerose only Hempstead Branch trains can stop because there is just one island platform between the southern two Hempstead Branch tracks. At Floral Park Main Line trains can stop because all four tracks platform but there are no further switches before the Hempstead Branch curves south onto its own independent ROW.
This situation will change once construction on the Main Line Third Track project (currently just called the https://lirrexpansion.com/ LIRR Expansion Project) is completed with the current north inbound Hempstead Branch track being joined by the newly built third mainline track just before Floral Park, and Main Line trains using extra capacity from the less frequent Hempstead Branch trains between Floral Park and Jamacia that won't see any other changes from this construction project.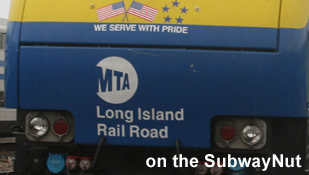 Last Updated:20 February, 2021
All photos are by Jeremiah Cox
This website is not allifiated with the MTA Long Island Railroad, their official website is here
This Website is maintained and copyright © 2003-2021, Jeremiah Cox. This website is not affiliated with any transit provider. Please do not remote link images or copy them from this website without permission. Contact the Webmaster