I'm having a quiet snowy New Years Eve home in South Bend, so I might as well make another website update.
Two weeks ago today (December 17) I went with Louise and her Dad to O'Hare to drop them off. Then I drove home, making a few Metra stops, with a goal of getting my final two missing Milwaukee West Line Stations in particular.
I leave the main airport parking garage and don't manage to merge from the very left lane to the very right lane fast enough to get to the Mannheim Road exit. Instead I get off at the next exit that doesn't lead to a tollway at River Road. I decide to skip Rosemont on the North Central Service since it's a weekend and I believe all platform access is through an enclosed staircase from an overpass which I predict to be locked. I drive farther south and make a first stop at Shriller Park–(25 Photos) on the edge of an intermodal yard and beneath an O'Hare runway flight path.
I continue driving south to my next stop of Mannheim–(13 Photos), a very limited service stop on the Milwaukee West Line, with only weekday service. So no round-trip bike ride from Franklin Park will be required to finish these stations.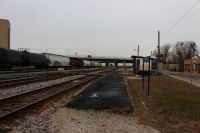 It's another short drive down Pacific Avenue to the main Franklin Park–(34 Photos) Station on the Milwaukee West Line, where I also visit Tower B-12 now relocated to a park across from the station. It's the name of the junction between the Milwaukee West Line and North Central Service.
I consider walking but my camera battery dies, so I drive over, charging my camera in my cars outlet over to the much newer Belmont Ave./Franklin Park–(26 Photos) on the North Central Service. This station is set back from the grade-crossing between industrial buildings, and has a strange futuristic station house.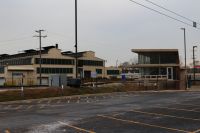 I continue driving south on local streets (which takes about 20 minutes) to the Union Pacific West Line, where I make stops at Melrose Park–(17 Photos) and Maywood–(13 Photos), and enjoy Maywood's brand new, opened in June waiting room.
I try to drive to River Forest as a final stop to finish this adventure but road work forces me to turn right instead of left so I decide to call it day.
The drive home feels long and makes real realize I'll avoid driving (I'll gladly take the Blue Line) on the Eisenhower Expressway in the future since my entrance to it is via an unmarked suicide on-ramp. I actually go west on the Eisenhower a few miles out to the I-294, the Tri-State Tollway to avoid driving through downtown Chicago. I stay straight on this as I-80 and I-94 join it, and stay on I-94 (deciding not to take the Indiana Toll Road) to Michigan City where I get off and take the four-lane US-20, that becomes Indiana Route 2 and Western Avenue home. Taking these roads home from 'free' I-94 generally takes the same amount of time as the toll road and saves more than $3 in tools since the Indiana Toll Road abolished EZ-Pass discounts in June.