This past May (on May 5th to be exact) I headed into Chicago to attend the inaugural Transportation Camp Chicago for the day. Louise and I considered getting a hotel room and making a weekend out of it but with a big trip (no transit involved) the following weekend, tickets to Kinky Boots in South Bend the night before, it just didn't make sense to make a weekend out of it. Based on the location of the event, the logistics of not wanting to make Louise get out of bed too early on a Saturday morning, and the weather forecast I decided that taking my bicycle on the South Shore Line was the perfect way to solve the first mile/last mile logistics of the day and get to Transportation Camp — an unconference where it really wouldn't be an issue — slightly late, but faster than any other option for getting across from a South Shore Station to the UIC Campus for the event.
I wake up at 6:15am ET, leave the house at 7:05am and get to the airport at 7:30am, plenty of time for my 7:45am train. The South Shore Line has a very strict policy requiring bicyclists to only board at high-level platform stations, and through center doors. Like last bike season the bike car is now the very last car of the train and one that won't platform at most stations, so it's been closed off meaning I get most-likely (unless there are other bicyclists) a private car. In 2016 when I took the South Shore Line with my bike more it was always a scramble with other passengers boarding in South Bend who don't feel like walking forward more. The friendly conductor asks me to wait a minute and then asks me my destination – Museum Campus – before opening the center doors for me and then closing them. I put my bicycle in the nice easy to use rack and sit down.
At 7:43 the conductor lets a few last minute stragglers into my car before we leave at 7:45, with the stragglers walking up to the regularly open few cars. This means a car to myself until at least Dune Park. The conductor then punches my final ride on my 10-trip ticket, this evening this 10 trip ticket will be collected. The ticket was purchased last June before the South Shore Line's last fare hike, Louise and I haven't been taking the South Shore Line into Chicago as much lately, preferring the comfort of taking Amtrak.
The South Shore Line leaves the Airport on it's slow merry-go-round like ride out of the airport, along Bendix Avenue (which it crosses at grade-crossings twice), past the concrete plant, retracing my ride to the airport.
At 7:54 we pass the old Honeywell plant, a place where some have proposed relocating the South Shore Station, "to save time". The original plans to relocated the South Shore Line to the west side of the Airport, was curtailed by NIMBYism from a few landowners (12 to 24) in the unincorporated community of Ardmore who protested that the South Bend City government (a government they don't vote for) were going to use city money to buy their homes using eminent domain.
7:57 – We finally switch onto the South Shore "Mainline" that continues before it ends at the current Amtrak Station, parallel to the Norfolk Southern Tracks. We pick-up speed, finally heading west in good time, and are soon in fields.
8:09 – We pass the train running in semi-revenue service from Michigan City to South Bend that will become the 9:00am Express Train to Chicago that I usually take. At one point pre-2009, 'reliability' service cuts nearly all weekend trains running every 2 hours ran all the way to South Bend. These meets today are relatively rare east of Michigan City. The ride here is through fields.
We bypass the Hudson Lake Station, at 7:14 CT, just after passing the Hudson Lake Cemetery. No one has singled the train to stop at this flag stop. This station is just beyond the county line where I gain the hour entering Central Time.
I then listen to music and doze off, my plan for at least the start of this early morning train ride. I wake up and am sitting the Carroll Avenue–(3 Photos) train yard with a nice view of the ex-Metra Galley Car, I think the South Shore Line purchased for clearance testing before they purchased their most recent bilevel cars.
7:43 – I notice a purple cross by the train line as we enter Downtown Michigan City. I assume this cross is for someone killed by a train.
7:45 – We cross Michigan Blvd and head into 11th Street to begin the one remaining street running section of "the last interurban in America."
7:46 – We stop at 11th Street-Michigan City in the middle of the street, while stopped the same conductor walks back to "Check in and make sure your doing okay." We leave the station before stopping again to activate a signal. I notice a gravel parking lot on the north side of the tracks with a South Shore Line parking sign.
7:51 – We transition from 11th Street to 10th Street and cross the Amtrak Michigan Line.
We continue down the middle of 10th Street before passing the Michigan City State Prison. Then we finally enter the paster private ROW through Duneland.
We stop at Beverly Shores at 7:58, I glance at my timetable and see for no reason I can fully think of we're running 15 minutes late. Perhaps there was a slow down between Carroll Avenue and Hudson Lake that I slept through.
We get to Dune Park at 8:03, let see if any other bikes are riding this morning. The doors on my car don't automatically open but I platform! The platform has signs for local trails, no other bikes this morning. As we leave, I noticed a pedestrian trail leaving the station leading to Indiana Dunes State Park.
8:09 – Industry returns as we pass the Bruns Harbor area and cross over the NS line used by Amtrak (including all Michigan Service trains) into Chicago.
We stop at Ogden Dunes at 8:15, my car is stopped by the mini-high platform that has a retracted bridgeplate to allow freight trains through without needing gauntlet track. I also notice a strobe light on the mini-high platform to alert the crew if any wheelchairs need to board. I wonder how delayed trains are if a wheelchair wants to get on here.
We cross the NS railroad used by Amtrak again coming to a stop at the simple Miller Station at 8:22, 15 minutes late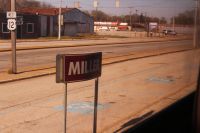 We follow follow the Dunes Highway into downtown Gary where we cross and then follow the Toll Road into town. We then pass the RailCats independent baseball team's stadium.
Almost immediately we come to a stop at the Gary Metro Center Station–(1 Photo). The bike car is stopped near the switch used by weekday trains that short-turn at Gary use. The bike car isn't anywhere close to the platform. I do have a nice view of the New York Central Station.
We leave Gary-Metro Center and I get a nice photo of the station building with the walkway that angles up from the platform to it over the parking lot.
At 8:33 we come to a stop at Clark Road-Gary Airport, my car is nearly under Airport Road, quite a ways from the short station platform.
We reach the edge of the large East Chicago–(2 Photos) parking lot, (with a non-union rat in the distance). My car comes to a stop at 8:40 at the unusued low-level platform area on the opposite side of the elevator/stair landing that leads up to the high-level platform.
We head back down to grade-level and enter Hammond where my car actually platforms!
We pass a train yard and a lake and continue into Chicago, where the first stop is Hegewisch at 8:51. We pass a Norfolk Southern locomotive attached to some autoracks.
I see a waiting bus to the 69th Red Line Station, which seems like a fun way to enter Chicago one-day and get a proper photo essay of Hegewisch, I did bike there once but nearly missed the South Shore Line so I didn't have time to get a proper photo essay.
Leaving Hegewisch, we pass a CSX yard where a locomotive is pulling some autoracks, just like the NS locomotive when we entered.
We pass the modern blue bridge that opened as part of the Create project and more abandoned industry.
At 8:59 I see Metra Electric tracks, and we cross the parallel ex-IC freight and intercity tracks at a grade before slowly switching onto the Metra Electric line at 115th St/Kensington, where the platform signs seem to be missing.
We then immedately pass the Kensington/115th Street Station.
We then head onto the outside Express track, and I decide to get out the window photos of the Metra station's as we pass.
I'm at the ready at the abandoned 67th Street Station, after we pass over the South Chicago branch that arrives at at a flying junction.
Then some photos passing through 63rd Street–(3 Photos)
At 9:10, as we stop at 55th-56th-57th, we finally get an announcement to expect all trains running to and from South Bend to be 10-15 minutes late due to track work. Probably residual delays due to the weekdays busing that ended the day before.
We then bypass 51st, 53rd/Hyde Park–(3 Photos) were I get some nice, final out the window photos.
At this point I put my camera away and start to pack up. At McCormick Place I notice the platform has a lot more bright signage. I definitely need to put this unique convention center stop on my re-visit list.
We then come to a stop for Museum Campus with my car not actually platforming.
The conductor is nearby and tells me to wait a minute. The train than pulls-up and makes a double-spot at Museum Campus–(8 Photos). Unfortunately the engineer didn't pull the train up enough. The middle door is now only half-way on the platform. I carefully get off with the conductor asking me "Is everything okay?" not that happy that I'm taking pictures of a safety hazard she's created not properly spotting the train.
Continue reading – Transportation Camp Chicago and a Not Alone South Shore Line ride home.