This past April Louise and I had already paid for days at Dinseyland and again headed off to Anaheim for a quick weekend at Louise's Happiest Place on Earth. Unlike last year when the trip ended with us getting home at 4:00am Monday morning we planned this trip with the goal of "staying on Eastern time" and flew back on a just post-curfew morning flight from Orange County. For the flight out there wasn't anything cheap out of Orange County but Spirit Airlines had less than $100 each one-way fares out of Chicago O'Hare, and for this short a trip, we had no need for any carry-on or checked bags.
I took 2.25 hours of vacation to do this trip and it began with me hailing an Uber at my desk for $9.28 and meeting Louise downstiars at 12:15pm for a short ride to the South Bend Airport. The Transpo Route 4 bus we like to take but it arrives at 12:43, and this feels uncomfortably short before a trip. Having less than 6 minutes to catch the 12:49 South Shore Train, requires taking the 11:50am bus and my vacation time feels more valuable than this. The Uber follows a Coach USA Airport Supersaver Bus that originated at Notre Dame at Noon and is heading to the Airport for it's 12:30pm trip to O'Hare (with a connection to Midway). It's scheduled arrival time is 2:35pm and but would cost us $42 each instead of the $13.50 for the South Shore Line and $2.50 for the Blue Line. Louise also gets motion sickness on buses.
We get to South Bend Airport–(2 Photos) in plenty of time to our awaiting South Shore Train.
The ride into Chicago is largely uneventful, although we arrive at Van Buren Street in Chicago 15 minutes late at 2:30. We arrive as a train of BiLevel cars is going the other way, on an Eastbound South Shore Line trip only as far as Michigan City. Our train is on the middle track and blocks my view to finally get some photos of the South Shore's Galley BiLevel cars in service. The reason for the delay seems primarily due to some work on a grade-crossings before Michigan City that I don't really notice while taking a nice and short train nap curled up against the train window.
On the train Louise and I decide to see if we can download and watch a movie on my iPad on the Spirit Flight. We realize we have problems, Louise only has Bluetooth headphones and forgot the cord to use to them outside of airplane mode, we also don't have a headphone splitter. We figure out a solution and make a bee-line to Target on State Street to buy a cheap pair of headphones and a splitter for less than $15. We then bee-line it to Moroe Street-(2 Photos) to wait for the Blue Line.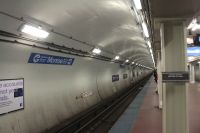 The Blue Line soon comes and we have usual long and slightly jerky  ride because of the short CTA cars out to O'Hare.
At O'Hare we have an easy PreCheck security line and stop at Burrito Beach for some dinner before boarding our plane. The plane is at C9 which does have a Jetbridge (Spirit flights are sometimes forced to a different O'Hare gate C12 that requires passengers to take stairs down to the tarmac and a ramp up into the plane).
On my two previous Spirit flights between Chicago to the west coast we've gotten Big Front Seats for as low as $35, money well spent, but the seats are all taken on this flight when we book. I settle in for my first Spirit flight on their "pre"-reclined seats. The big problem with them for me is their lack of padding that makes my back sore, Louise who is tall and has broad hips actually finds Spirit seats (and Frontier seats) often more comfortable than normal airline seats, also since recline can be deadly to her, so flights like these are sort of a compromise in comfort for us as a couple.
The plane leaves the gate a couple minutes early at 5:03, after we wait to finish fueling. It's the usual long O'Hare Airport taxi and we take off at 5:19. Our stop at Target works well. We watch UP! which I hadn't seen before on my iPad is the perfect inflight entertainment for us and helps pass the time. We finally land in L.A. at 7:15 and have a quite long taxi to our gate where we arrive at 7:28 Pacific Time.
The time we did this trip last year we arrived later and took a Prime Time Shuttle down to Anaheim which cost $31.95 for two tickets but required waiting a good half-hour to 40 minutes for a shuttle with enough seats for us to show up. This time I figured out a new idea, an Uber all the way from LAX to Disneyland costs about $50, but about half of the journey is in the median of the Century Freeway and an Uber from Norwalk would only cost about $25. We arrive and Louise is okay and not too tired for the idea so we find the right curb for Bus Route "G" (only passengers with TAP cards arriving at the airport are allowed on board, I would think LAX would be happy letting people get dropped off at the Green Line station and reduce curb congestion) and wait about 10 minutes for the bus. The LAX Airport Shuttle's use Ride Systems the same system I'm used I help manage for work. They've programmed there's in a way so there a bunch of idling shuttle icons sitting in their bus garage, and its a bit confusing.
We have an uneventful bus ride to the Aviation/LAX Station-(3 Photos) where I notice the guideway built for the Crenshaw Line that's going to open in a couple years. I buy us TAP cards loaded with a single ride for $2.75 each ($5.50 total). There definitely not enough TVMs at the Aviation Station entrance for the busiest of an airport connection station. The Transit App is giving inaccurate data saying a Green Line will be there in 6 minutes (it's frequency is sadly every 20 minutes at this hour) before live tracking goes blank, soon we see the lights of a train arriving in the distance and we get on.
The Green Line ride east in the middle of the Century Freeway is a bit eventful. Yet again I overhear some random strangers getting into a deep conversation with one another on Metrorail. This seems to be something that I witness a lot more when riding transit in California than back in New York City. We get to the last stop at Norwalk Station–(8 Photos) and leave to the west exit plaza.
At the west exit plaza we wait by the Bumble Bee sculpture for about 15 minutes for our Uber down to Anaheim. We see Metro Bus route 460 that goes to Disneyland from Downtown Los Angeles and the Norwalk Green Line Station, it's a 67 minute ride making lots of stops that is just not feasible for us (although costing just a 75 cent upcharge).
Our Uber driver is a Disneyland season pass holder and a bit chatty. The cost of the ride is ideal at just $22.35, so the total cost from the airport is $25.85 (plus the $1 per new TAP card which is a one time cost). This is a price I can get behind, and $5 cheaper than the unreliable primetime shuttle (it's also cheaper than )
We arrive at the Courtyard Anaheim Convention Center, that feels like a Courtyard that could be in any city. It's chosen because it's a Category 5 hotel that I can use a free night certificate that we earned by staying in Marriott Hotels on our roadtrip to Syracuse for Thanksgiving.
We're in bed before 10:00pm Pacific Time and soon fall asleep on this trip where the goal is to keep our bodies on Eastern Time. We wake up the next morning at 6:00am naturally. We walk up Harbor Blvd, stopping at CVS for last minute items and are inside Disneyland on Main Street at 7:30, forth group through the turnstile. We grab breakfast at the now Starbucks on Main Street and head outside and enter the park with the rope drop.
I'm not going to go into details about are fun day at Dinseyland with some brief hopping into California Adventure but might as well include some rail-based transportation photos. We had an interesting ride on the Disneyland Railroad that was in the process of temporarily going out of service to fix something on the tracks (is it real transportation? I don't know and can't decide).
The Autotopia, stinking of diesel fuel from it's lawnmower engines
We went for a ride on a horse-drawn streetcar, pulled by horse Finn (with a normal cast-member name tag). I think this and Dinseyworld are some of the few places you can ride a horse-car.
We we're planning to ride the monorail back into the park from Downtown Disney but it was "Temporary Closed due to heat since the cars lack air conditioning." I didn't fully believe the cast member here either.
We head back to the hotel after a terrible Toy Story Fireworks/Projection show that's really hard to see, not waiting until Midnight park closing time to keep our bodies on Eastern Time.
Continue reading: Flying Home from Disneyland with my first ride on Amtrak's Blue Water to Niles.