Louise and I have formed a little tradition of trying to go and work somewhere like a coffee shop together when I have a holiday off from work for a long weekend when we have no other plans. Good Friday (March 30, 2018) was one of these days and we decided to take a day trip to Kalamazoo to check out this city and what looked like it's decent coffee shops.
We got a bit of a late start and after stopping at Trader Joe's and a Starbucks on the edge of Kalamazoo so I could do a time sensitive thing for work, followed by an excellent lunch at the Crow's Nest, we got settled with a pot of tea inside Black Owl Cafe at about 3:45pm,
As we settled into work in the cafe, I start looking at the Amtrak timetable to decide when I'm going to leave Louise and go for my getting the Kalamazoo station walk. I see Wolverine Train #352 should be arriving right now, but a quick check of the Amtrak app show's it's running 10 minutes late. Perfect.
I head outside and there's a railroad junction nearby so I need to figure out which line is used by Amtrak. Luckily, since this ex-Norfolk Southern line is now owned by Michigan DOT and now operated by Amtrak, I only need to look for the Amtrak logo on the grade-crossing signs to figure out what track the Wolverine will pass through town on, luckily this track is just north of the cafe.
I keep walking along the tracks and notice a neat tower off in the distance, which I approach and walk by getting closer to the Kalamazoo Train Station. This tower is at neat railroad junction and is completely boarded up with Norfolk Southern No Tresspassing signs, although Norfolk Southern no longer owns any railroads in the area (all the other railroads are CN or short line railroads).
As I continue approaching the station I see a number of homeless people rummaging around and tresspassing across the Amtrak line. I then pass a mission which I assume is also a food pantry/homeless shelter and understand why there is the crowd around me. I start hearing the whistle of Wolverine #352 approaching in the distance. I then pass this unique sign, which seems irrelevant now with Michigan DOT now leasing the line all the way to Dearborn.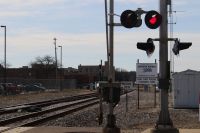 Woverine Train #352 arrives in the station at 4:07pm, 18 minutes late. The lights eventually go up and then I get to watch Amtrak do it's station work, including trespassers walking around the stopped locomotive, not wanting to wait.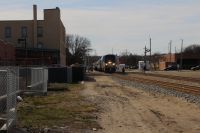 The train leaves after at 4:12, after taking 5 minutes (instead of the scheduled 2) to due its station work, now 21 minutes late.
I then walk the final block to the historic 1887 station that has been turned into the Kalamazoo Transportation Center–(70 Photos). I'm quite impressed by the facility with 20 bus bays for Kalamazoo Metro Transit and how the modern bus bays were designed in a style that respects the historic integrity of the station. I spend a good 40 minutes doing my photo essay of the facility, witnessing 2 bus pulses on the 30-minute (other routes run 60 minute headways) Metro Transit buses.
I also notice the main headquarters and garage for Metro Transit is across the tracks from the station and enjoy the signs saying to go to the transportation center to purchase tokens and passes.
As I finally walk back to the cafe to return to Louise. I notice some other railroad themed buildings, and get a different view of the tower from the grade-crossing.
I spend the rest of the afternoon (until the cafe closes at 7:00pm) working in the Black Owl Cafe, including writing this blog post for the Manhattan and New Lenox Metra Stations.
Louise and I go out for a nice and delicious dinner in Kalamazoo and then hit the road to drive home to South Bend, happy to have had a good adventure to a new nearby city.