Kalamazoo is a major station served by all 3 of Amtrak's daily Wolverine round-trips and the Blue Water. The historic 1887 Richardson Romanesque style depot was renovated and rededicated in 2006 as the Kalamazoo Transportation Center and is now shared with Greyhound Lines, Indian Trails, and Miller Transportation/Hoosier Ride (no signs in the station mention Miller Transportation) intercity buses, and local Kalamazoo Metro Transit Buses. Across the train tracks from the station platform is a much more modern brick building, which is contains the main bus garage (all buses are stored indoors) and administrative offices for Metro Transit.
The large station building stretches for an entire city block from Rose Street (to the east) to Burdock Street. On the north side of the depot is the simple, very low-level brick Amtrak platform for the two-track line. The platform stretches between the same two streets' grade crossings. A fading tactile warning strip lines the edge of the platform. A second concrete platform (with numerous crossings) serves the second track. There is no wheelchair lift enclosure on the platform but a roll-up door leads into the station near the Amtrak ticket office where a mobile lift must be stored for wheelchair accessibility. There are no standard Amtrak signs on the platform: just one that says Welcome to Kalamazoo and another that says Kalamazoo next to Chicago, 138 miles and Detroit, 142 miles. These are blue with white text.
The inside of the depot (open 6:00am to 10:00pm Monday through Sunday, bus service in Kalamazoo does operate on Sundays) contains a historic waiting room with a bare wood ceiling and wooden benches for waiting train and bus passengers. There are three separate ticket offices; each has wooden walls and historic looking iron ticketing windows. One is used by Amtrak (staffed 6:00am to 4:00pm daily, although doors into the station say the Amtrak ticket office is also open 6:00am to 10:00pm), and one for Metro Transit and Bus tickets, a third ticket office is unused. There is a Quick Track Vending Machine, and a second Vending Machine for Kalamazoo Metro Transit tokens. An interior walkway leads down to a concession area, now containing a convenience store/coffee bar, probably in the former Railroad Express Agency/Freight area of the station.
Leaving the station leads to a central plaza area. This plaza stretches back to Kalamazoo Avenue, at a small passenger drop-off loop for the Transportation Center. On each side of the central plaza are bus bays, 10 on each side, 20 total. These are all bus bays that require buses to back out of. Covering the start of each of the bus bays and edges of the central plaza are two canopy structures. These canopy structures compliment the historic nature of the station well. Large circular sandstone arches (with a lip allowing places for bus passengers to sit) hold up the canopies, complimenting the historic depot extremely well.
Amtrak parking is limited at this station; there is a small 25-space short term parking lot across Rose Street from depot. Long-term parking is in Arcadia Parking Ramp #4 (and is paid) across Kalamazoo Avenue.
Two blocks east of the station, the Amtrak Michigan Division ends (with a sign welcoming westbound trains to the Michigan Division and reminding engineers to switch radio codes) at a junction with the Grand Elk Railroad and Canadian National Spur. Here, trains enter 135 miles of trackage, formerly owned by Norfolk Southern Lines, purchased by the Michigan Department of Transportation in October 2014 and now dispatched by Amtrak. The tracks are slowly being improved for 110 mph service east to Dearborn, all grade crossings on this portion of the route now have Amtrak emergency call signs.
All Photos Taken on March 30, 2018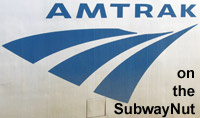 Last Updated: 9 April, 2018
This website is not affiliated with Amtrak, their official website is here, A source I have used countless times while compiling this section is Amtrak's Great American Stations
This Website is maintained and copyright © 2003-2019, Jeremiah Cox. Please do not remote link images or copy them from this website without permission.