This trip occurred on Labor Day, September 7, 2015
Introduction:
The goal of the website right now is "finishing things" particularly far-flung portions of our commuter rail system that in the past I've been too primarily cheap to venture out too. The most obvious was my Summer Sunday to the Hamptons to finish that branch last month. The Port Jervis Branch I left in pecking distance after driving to 3 of the hardest to reach intermediate stations a couple of months ago. I made a point of leaving Port Jervis and Otisville to return to my train and write a full trip report of the branch. The hardest part though was finding the right time to do it. Otisville is mostly in the middle of nowhere, a few gas stations within walking distance, Port Jervis is clearly a small city that I could spend a long time in. Unforchunately when it came time to analyze the schedules and figure out the most appropriate time I realized that under the normal weekday and weekend schedule, except during peak direction rush hour (where in theory I could return on the one evening 9:27pm local train that would get me back to Penn Station after midnight, paying 25% more unable to buy an off-peak round-trip ticket) it was impossible not to spend less than two hours in Otisville, except for a yellow colored extra train on the weekend schedule that runs "5/25, 7/3, 7/4, 7/5, and 9/7 Only" (had I noticed this before July 4 weekend when I was just processing my photos from my car trip the week before I probably would have done the trip then). This extra train for people returning from their long-weekends mean trains leave Port Jervis at 3:05pm, 4:09pm, 5:27pm (even tough I didn't want to make a second stop, I could have in a practical way).
After that came the second question since the MNR West of Hudson (unlike NJT that ended them with their 2010 22% huge fare hike) still offers off-peak round-trip tickets with Hoboken at $29.75 and New York-Penn at $32.25 (glancing at the fare table it's the same $5.50 difference, what PATH is round-trip at every Port Jervis Line station, Pascack Valley line, your better off with Penn than PATH, Penn is only $2.00 more on an off-peak round-trip) I decided to do this trip as a Hoboken round-trip and would go down one-way at least without riding the subway.
The Trip:
I start my gorgeous Labor Day leaving the house a little after 9:00 to walk over the George Washington Bridge, dodging bicyclists.  It's extremely pleasant.

When I get off the bridge, the sensible thing would be to walk into Fort Lee a couple blocks down Main Street for the bus but I have time (it's only 9:40) and walk down River Road that lacks a sidewalk in places to Borough line of Edgewater, where at least I have a little cinderblock shack to wait in with another passenger who's sitting in the one corner of shade.

The 158 heading towards the Port Authority arrives at 9:59, right on time. It's using its usual articulated bus with super-comfortable high-backed seats. I pay the driver $3.05 (I had grabbed a nickel at home) for my 2 zone bus trip plus a transfer to the light rail. It's then the nice comfortable ride down River Road.
I get off the bus at the Port Imperial–(1 Photo) (Weehawken) Light Rail Station at 10:20, and see trains arriving in both directions, I jog for it, waiting for the next northbound train to cross the pedestrian crossing and board the next Tonnelle Avenue-bound single LRV car that's nearly standing room only (running every 20 minutes on the current awful weekend schedule), this is reason I've built so much extra time that I will get to Hoboken Terminal 40 minutes early if my next connection at Pavonia/Newport is on schedule.

10:25 – South of Lincoln Harbor I notice a bus yard that's completely full.
10:29 – run along the NJT tracks and slowly switch to head down to Newport where I'll be transferring. Then it's over the entrance to the Holland Tunnel.
I get off a Pavonia-Newport–(5 Photos) at 10:32 to the voice just saying connections to PATH trains. I notice the Hudson Bergen Light Rail has renamed the station Newport like PATH with the station signs changed but the recordings not yet updated. At least the connections are timed well, a few minutes for a Hoboken-bound train, nothing Tonnelle Avenue-bound.

The next Hoboken-bound train arrives and stops just before the grade-crossing. I hear an announcement from the driver to not lean against the doors. It takes a few tries and restarts before my train enters the station at 10:37.

It's a quick ride via the other side of the wye before we slowly enter Hoboken Terminal (HBLR)–(20 Photos) at 10:40, I'm 40 minutes early (I assumed I would be waiting in Port Imperial for 20 minutes, and not make the connection since the bus wouldn't be exactly on time). I take a few photos of my train leaving to make the next trip south and find Bollards a piece of public art I hadn't noticed before. I also find a new sign at the locked exits from the northern ends of the platforms amusing.

I go to a TVM and buy my tickets for the day. It's two off peak round-trips I've discovered are cheaper (compared to a HOB to PORT JV round-trip for and a one-way) this is HOBOKEN to OTISVLE for $26.75 and OTISVLE to PORT JV for $5.50. I also have to click through a screen reminding me off-peak round-trip tickets can't be used on Peak-trains. Although I'll never use a faregate these tickets also have NJT's new QR Codes on them. I guess on-board conductors can scan them and make tickets aren't counterfeit perhaps? The train schedule on weekday is horrible, the destination board shows a 4:25pm train in 5 hours on the bottom.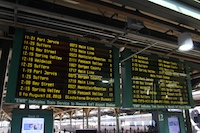 I take a bit more of a walk although I don't really need more photos of Hoboken Terminal–(20 Photos). I do head out for some neat views of my favorite train station from a nice pier.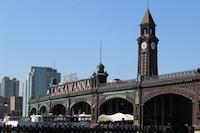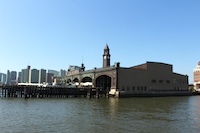 I also get the barricades that now surround the elevator to Hoboken PATH–(2 Photo) so it won't flood during the next storm.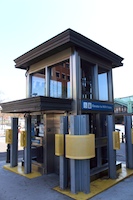 The doors to my train, using cars fully owned by Metro-North with Comet Vs and a F40 Locomotive at the front that I never get a good look at open about 20 minutes before departure (the track has already been posted, heck the tracks are already known for trains departing in 5 hours). I board the rear cab car and put my two tickets under the seat clip.

The trip begins with the all aboard at 11:21 with the conductor coming to collect my tickets immediately, a little confused about why I have two tickets and replacing them with a blank seat check.
11:25 – In the tunnels out of Hoboken.
11:28 – Emerge on the opposite side of the Palisades. Immediately the Morris & Essex Lines diverge and we loose electrification above us soon after.
It's a quick jaunt to Secaucus where the peace and quiet end, with the car getting relatively crowded we arrive at 11:31 and leave at 11:32. Next stop is Ramsey-Route 17.
As we leave Secaucus I feel us switching over and we switch over to the Main Line for our express run. This is a treat for me, on my last few trips up this line I always seem to end up going via the Bergen County Line.
11:36 – The bridge is single-tracked but as soon as we cross its back to two tracks through the Meadowlands.
11:37 – The conductor comes through and does a sweep not bothering with seat checks for new passengers and taking mine away. I could have gotten away without buying a ticket from Otisville to Port Jervis.
11:38 – Skip Lyndhurst (I seemed to have missed Kingsland) and over some water.
11:39 – Delawanna, simple station with a small shelter. There two tracks but space for 3.  The view is trees and houses
11:40 – Passaic with a nice old station house, can't tell if it's still in passenger use.
11:41 – Switches at Mill interlocking in front of what's clearly a former mill
11:42 – Clifton with another station house that clearly has a waiting room
11:45 – Were going more slowly as I spot a modern overpass pedestrian bridge that leads to nowhere (more a construction site) at the opposite end.
11:46 – As we go past a hospital in Paterson on a viaduct, we pass a train going the opposite direction.
11:47 – We reach a wide viaduct through the center of this city and I spot a former low-level platform before a high-level one that is the current Patterson Station. The Main Line I've really neglected, down here!
11:49 – A scrap yard and some school buses. Then over a river as I see another rail line and through a yard. These tracks pass overhead
11:50 – Hawthorne, a simple low-level station with new lampposts. We're then back in houses and under 208
11:51 – Glen Rock-Main Line, with a boarded up station house and we rejoin the Bergen County Line.
11:53 – Ridgewood with its long, former low-level platforms and new high-level ones.
11:55 – Ho-Ho-Kus, I'm back in familiar territory!
11:56 – Waldwick and the former historic tower north of the station
11:58 – Allendale with a nice and large historic station
11:59 – Through trees and see a golf course
Noon – Ramsey, I see the mini-high platform
We slow down and make the the Ramsey-Route 17 stop to discharge a few at the modern high-level platforms at 12:01
12:04 – Mahwah, the last stop we skip and station in New Jersey
12:05 – See the Welcome to New York sign as we slow down. We get an announcement saying that the middle doors in each car won't open and that passengers must go to the ends of the platforms and use the stairs to exit the train at the remaining stops.
We stop in Suffern at the miss-match of NJT Metro-North signs at 12:06. We leave at 12:07 slowing down.
12:08 – Under the Throughway as they announce the first car won't open at Sloatsburg. We pass a couple trains in the yard.
12:09 – A southbound train, all Metro-North cars like mine passes as the line stays two tracks. We keep following the Ramapo River, I'm surprised their two tracks so far north.
12:12-see a ballfield and a park, the train finally becomes a single track.
We stop in Sloatsburg at its tiny platform at 12:13 as I notice new signs that are lower and in the same maroon as I saw in Nanuet, these are clearly designed for high-level and not low-level platforms, there lower than the previous signs and much harder to read out of train windows.
12:15 – A stone shop along the tracks. We then follow Route 17 in and out of view between the trees and Ramapo River.
We reach Tuxedo at 12:18 letting off some hikers (exactly last Labor Day I took the train up here with a friend and has an excellent hike). They're also standing by the middle door waiting for it to open, don't you see the low-level platform?
12:20 – trees surround the tracks, I sort of wish I had saved this trip for the peak foliage season but the complicated schedule made that feel impossible. Houses and the Route 17 corridor come back in view.
12:23 – We hug Route 17 and see the hills and mountains of Harriman State Park
12:24 – A few houses along the tracks, the town of Southfields
12:27 – The Thruway comes into view in a wide valley as we continue to follow the valley.
We stop in Harriman at 12:28, right on time and I realize due to a giant midday gap in service (no trains between 10:44 and 3:05 leaving Port Jervis) there won't be any meets along the branch. A number of people get off; I watch a couple arrive clearly to visit the woman's father (I can judge from their embrace with barely a handsake for the man) who's brought the dog out of the car onto the platform.
12:30 – After letting lots of people off we leave the platform behind and veer a left at the switches that contains the track that used to be the main passenger line, running further south directly through towns like Goshen.

12:31 – Follow the Throughway and pass the Harriman Plaza where the closed ticketing system on the thruway starts
12:32 – See a very crowded parking lot at what looks like shops, the outlet mall of Woodbury Commons, perhaps there is potential for an off-peak shoppers stop on Metro-North.
12:33 – The houses of Woodbury have faded into the distance and I'm amazed we're going so fast in what feels like relatively rough track. The view is just rural and trees.
12:36 – A short viaduct. Hills are visible beyond trees, that are too numerous to allow for decent photos
12:38 – Notice some odd stretches of fencing as we slow down for the Moodah Viaduct.
The Moodah viaduct takes a good two minutes to cross (we're on it at 12:39). I enjoy the view as we finish crossing we get the announcement for Salisbury Mills at 12:41.

We stop in Salisbury Mills at 12:42. Then it's back to trees.
12:44 – See a few houses between the trees
12:48 – Over a road and some water, I can't think of the last grade crossing since Tuxedo.
12:49 – A branch line, the New York, Susquehanna and Western Railway Hudson Secondary Track joins us. I keep forgetting to get the track maps off my computer and onto my iPad to follow along.
12:51 – Slow down as I see a cow and a farm. We go over a small stream and get the announcement.
We stop in Campbell Hall at 12:52, letting 1 off. I snap some photos of the ROW equipment in the yard across from the platform.
12:53 – Pass a siding full of freight cars
12:54 – A short steel bridge over a stream.
12:55 – Another bridge over the Wallkill River and a farm.
12:57 – We cross under I-84 and follow it before turning north of it.
12:58 – See a large warehouse between the trees and chemical tanks. We get the announcement for Middletown.
We stop in Middletown, NY at 12:59 at the current station on the edge of some big box stores
1:00 – They announce the front two open cars are closed and to go to the rear of the train since only the last set of doors between these two cars will open in Otisville and Port Jervis.
1:01 – We go under a highway but the line stays in trees before I see a new subdivision.
1:02 – We continue through this subdivision I notice is named Washington Heights, trees surround the train
1:03 – See a track switch onto us, it's the former passenger main line that went through towns.
1:04 – Trees return, over a road
1:05 – A nice big field and a meadow
1:06 – Around Howells we cross a number of roads that I notice are grade-separated
1:07-were still mostly in trees but making good speed on smooth track. I guess quite a lot of money has been spent on trying to keep Orange County Residents Happy with their MTA taxes.
1:08-A few houses along Shoddy Hollow Road before we're back to trees and fields.
I see a sign for Otisville and we slow down. We make the station stop at 1:10 for no one, I notice some renovations have been done on the platform. The parking lot also looks empty.
At 1:11 the trees rise above us and we enter the Otisville Tunnel with no obvious place to get photos of a train entering. It takes two minutes, we're through at 11:13.
1:14-In a valley we keep going through trees. I see the hills of the Catskils off in the distance.
1:17-Through trees with another road crossing above, I should have waited for the Fall  Foliage.
1:21-We slow down on a curve in the trees. I see a valley to the right.
1:25-Cross a river on an old bridge and a second track begins. I see buildings as we enter Port Jervis.
1:26-The tracks diverge and we slow down and come to a stop. Not at the station yet. The conductor is getting off to manually set the switch into the station.
1:28-We slowly enter the station as people get there things together.
We arrive at 1:29 in Port Jervis. I get off and see the conductor at the manual switch south of the platform. I get my photos including of the new lampposts (that replaced the previous generation long florescent tubes) and the surrounding train yard that lacks fences and also includes the historic and intact Historic Erie Timetable north of the station.

I then leave the station and surrounding parking lot through what seems like the only legal way to enter the station by a driveway. Grass separates the platform from nearby Macarthur Circle (that crosses above Pike Street which goes into an underpass under the tracks).

This leads me past a Berger King and Right Aid along with a mostly abandoned strip mall. The sign for the mall has Erie and Lackawana Railroad logos on it.

I head down to Pike' Street's underpass via a staircase from MacAthur Court and find steps up to Railroad Avenue. I walk south and get some photos across from the historic 1892 station.

Then a few looking off the tracks of the platform and yard. While I'm exploring it becomes clear that Port Jervis has a major trespassing problem.

I then decide to walk across the Delaware into Pennsylvania, two miles away is Carpeters Point near the 3-way corner where Pennsylvania, New Jersey and New York meet. Matamoras, PA is just two blocks away. First I pass the former Co-ed of Orange county service center that has moved to the historic dept.

I then walk across the Delaware and am very disappointed that this bridge lacks a Welcome to Pennsylvania sign. The closest is a change in bicycle routes sign.

I reach Metamoras, PA and the post office is the first place where I find a PA sign.

I want to have lunch but the deli in Matamoras has closed at 1:00pm for Labor Day. I cross the river back to Port Jervis and find an Old Fasioned Ice Cream Parol that also serves 'fun food.' I order a hot dog (all that's really served food wise) and read their 7 page menu of ice cream and other types of frozen desserts (they also sell fudge) as I wait for my boiled hot dog to cook (I haven't had one in years). I end up with a small ice cream sundae for dessert, that seems really big and I can't believe the even larger size of the large sundaes or banana splits others are consuming. I highly recommend the vibe of this dessert place, but don't go if your on a diet!

I then pass the welcome to Port Jervis signs along Pike Street. I follow the signs to head to Shopping and Provisions in Downtown.
The final stop in Port Jervis is through a relatively sad feeling downtown to the nicely restored Eire Depot, next to a still functioning railroad restaurant and guest house hotel.

I walk the few blocks to return to the station, entering via grass and walking all the way around via parking lots. I find a crowded platform, the end of a long weekend. There is a line at the one TVM. It's a lot less chaotic than the long lines I'm sure are materializing in the Hamptons. I see the conductor walk out to flip the the switch beyond the platform and then the derailer off the track. The train pulls in out of the yard, the same one rode up on at 3:00. I board the same car. This time they've spot it so two doors can open on the short platform.

The train leaves on time at 3:06.
3:11 – Cross the river and gather speed leaving. The conductor just says thank you when I hand over my Otisville ticket and don't get a seat check. All others do.
3:15 – A neat tress signal tower from the sadly now abandoned Erie mainline.
3:17 – Were back in the woods going past trees. My low battery light just started flashing (and I've just realized I left my second battery at home, so I'm laying off until I get my Otisville photo essay.
At 3:23 we enter the tunnel and I prepare to get off. It takes us until 3:25 to leave the tunnel.
I get off at Otisville at 3:26, 3 minutes late as they open two doors. A Port Jervis-bound train is supposed to arrive at 3:29. The train I'm on leaves and passes the Port Jervis-bound train at a rolling meet just east of the station. I can see it but it's just too far away for a photo.

This train arrives and stops at the wooden board for one door to open where one passenger gets off. I photograph this train entering the tunnel portal but it's the same situation, just too far for a decent photo.

I get my photos of the simple platform, including of the empty parking lot and start going for a walk to try and get a better tunnel portal photo. I discover there is no good spot, roads are just too far away.

The nearest restaurant serves greasy Chinese and I can't tell if its open, good thing I ate in Port Jervis.

I end up making a little loop and pass this house covered in republican primary signs for the Town of Mount Hope. It's the candidates home. At this point my camera dies (I had left the house convinced my second battery is in my pocket to realize I had forgotten it.

I still have my iPhone (also dyeing). I get back to the station at 4:00 as a number of people arrive including a family with a baby and a toddler. The toddler gets his figure stuck in the TVMs dispensing area and is balling. I get the nice sound of pollution and exhaust from some ATVers using the field next to the parking lot to ride around. I notice everyone is using the ADA parking spaces that are along the platform as a drop-off area. There are also 7 regular permit spaces along the platform that must be at a premium.

Since I only have my phone I try and shoot a video as our train enters at 4:29. I notice everyone else has only boarded the first car (I was tempted to spend another hour in Port Jervis to get photos of a train leaving and the next one arriving. I would have only had 75 minutes Otisville instead of my hour that was more than enough time).

4:33 – The train heads east picking up speed as I notice the two tracks of the line continues
4:35 – The conductor has opened the third car behind me. The bars were up when I got on. I don't bother wandering back.
4:38 – See the subdivisions that surround large Middletown
With a view of the loading dock of Lowes we pull into Middletown at 4:40, I see the conductor handing a phone to a guy. I assume left behind on a previous trip. We then leave. I notice the waiting shelter is clad in the same green colored framework as the platform canopies.
4:42 – Pass some warehouses and industry before we're back in the trees.
4:46 – the tracks expand into a yard as we get an announcement for Campbell Hall. We pass the same freight cars.
We stop in Campbell Hall at 4:47 and a few people board my car. I'm making a point of sitting on opposite side (left hand side this time) and can't see the platform.
4:49 – see MP-49 and another siding begins
4:55 – Zooming through trees pass a short siding with a brown looking unused track.
At 4:58 we stop in Salisbury Mills as I think the conductor is saying "South Ferry Hill." The car slowly fills up. Some people are complaining about the lack of a snack car.
4:59 – cross the first road and then onto the Moodah Viaduct where I take a few phone photos before deciding to shoot video, that doesn't seem worth posting.

5:02 – We clear the Moodah Viaduct and are back in the trees. I resume getting my reading for class done. We regain speed, I glance at my timetable and notice we're going to meet another train north of Harriman
5:07 – A shorter viaduct over a road, no grade-crossings yet!
5:09 – The northern end of a siding as we're in a town, Central Valley and slowly approach Woodbury Commons through the trees and pass some ponds on the opposite side of the train.

5:12 – Pass two highway ramps and the toll plaza for the Throughway. Then under another ramp for Route 17.
5:13 – At the southern end of the siding we have a rolling meet as the Throughway looks bumper to bumper.
5:14 – I see covered signals as the long section of double-track siding ends, also the former branch that used to be the passenger line.
We stop in Harriman at 5:15, there is a second rusting track across from the platforming track. This parking lot looks quite crowded, I think it could be Woodbury Commons overflow parking? Just one person boards my car. As we leave and traffic is moving again along the Throughway.
5:24 – I'm focusing on my book but the reflection of trees in the Ramapo River catches my eye.
We pass the first grade-crossing of the southbound trip and stop in Tuxedo at 5:25 and the train becomes more crowded including with a few backpackers (another summer passing without me doing). We leave at 5:27 and continue along the Ramapo. I feel like I'm back in very familiar territory, especially after once biking this.
5:28 – I hear the horn more since there grade-crossings.
We stop in Sloatsburg at 5:31 as my car blocks the grade-crossing only the front most doors opening. We leave at 5:32. I confirm the new signs on the platform, there is a group of people who clearly know each other in front of me although one set went up to Salisbury Mills and the other set gets on in Sloatsburg (that also has hiking trails).
5:33 – The line becomes double-tracked
5:37 – Pass an MLV train in the yard and the announcement for Suffern to change for all local stops.
We arrive in Suffern at 5:38 as a train of MLVs discharges (I assume) on the opposite track. Lots of people get on and I think I might be doubling up. I also notice there hasn't been a ticket check since Harriman, I guess the conductor is waiting for the express run. We leave at 5:40 and I hear the traps banging up as we start the non-stop ride to high-level Secaucus.
5:41 – Pass Mahwah, I'm reading and decide not to keep track of the express stops this time.
5:47 – Pass some sidings and then the Waldwick Station, a number of trains terminate here but I don't see any NJT trains in the yard. The line becomes 3 tracks..
5:50 – Ridgewood, I realize just how wide the Island platform is (now high-level and all the new fencing added.
5:51 – We veer right again at the junction so today's round-trip will be entirely on Main Line Express trains.
5:56 – I notice a bunch of high no trespassing fencing, and nice views of houses in the distrance before we reach the island platform that's relatively crowded in Paterson and the line widens. It's nice to realize I haven't quite been everywhere on NJT with a few more places to discover.

5:57 – The hospital parking garage.
5:58 – A northbound passes
6:00 – A fence and an odd siding as we pass Clifton.
6:02 – Passaic with an extremely wide ROW that could accommodate four or five tracks, were soon reduced to 3.
6:03 – A middle fence briefly, Delawanna??
6:04 – Over another river and into Lindhurst?? I don't notice a sign on the northbound track.
6:05 – Another tiny platform without a sign for outbound trains, Kingsland? We enter a short tunnel. I see the New York skyline for the first time.
6:06 – Along a field as we enter the Meadowlands, slowing down.
6:07 – A grade crossing in the middle of the Meadowlands. I see the various arterial highways that cross.
6:08 – The line becomes single tracked for the low-swing bridge

6:09 – The Bergen and Pascack Valley Line tracks join us at West Secaucus as we become four tracks and get the announcement for Secaucus Transfer Station to change for New York, Newark and all other connections."

We arrive in Secaucus at 6:11, 4 minutes early. If round-trips weren't cheaper I probably would have purchased my return ticket into Penn to get home faster. We clearly can't leave early and sit.
At 6:14 (one minute early) I hear our doors close as another Hoboken-bound train arrives across from us). It's a Bergen County line local train that's supposed to leave before us but we leave first.
6:17 – See my first catenary structure but no wires. It's slow running
6:18 – We curve to join the Lackawanna Main Line and pass an outbound fully Metro-North train (it's the 6:13 to Port Jervis)
6:19 – Were in the South Tunnel through the palisades. Get the brief air shaft.
6:20 – Second airshaft
6:21 – Officially through the tunnels
6:22– See the rail yards as I feel us switching to the south and pass a line of locomotives.
We then switch north slightly and arrive on track 14 at Hoboken Terminal–(4 Photos) at 6:25, a track with two platforms, but always uses the platform to the north.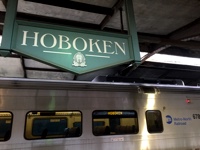 I debate going HBLR to the bus again or conventionally on PATH to the subway. I see the light rail platforms and that I've just missed a train so the next train isn't for 18 minutes and head to PATH–(4 Photos), realizing I haven't ridden it in maybe a year?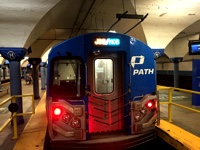 I refill my MetroCard and follow the signs to Track 3 for New York. A train is in the station for Journal Square on the middle track. My train pulls in at 6:38, pauses and leaves at 6:40.
At 6:50 I'm off PATH at 9 street–(1 Photo).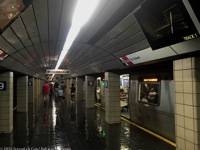 I walk the two blocks south to West 4th street where I'm swiping in at 6:54 ($5.00 to get home instead of $3.05 down to Hoboken this morning). I notice a downtown F train stopping on the upper-level which is very strange. Then a second F train as I get on a C train uptown one stop to 14 street because of an email I need to send from my iPad (my phone is also about dead and this needs an attachment on my iPad). I get to 14th and the A train comes in immediately.
It's an uneventful ride home, as I finish my reading as I get off at 181 Street at 7:32.