A couple weeks ago (June 24 to June 28) I went on my first real road trip by myself. Sure I've driven to and from Vermont a few times (and took back roads to visit Vermonter Stations on my way, including Palmer for the back-up move) but on all those trips my Brother, who I was chauffeuring to and from college was with me for the other direction. This time I finally gave up on the train and decided to drive up to Saratoga Springs for a two day conference (Thursday-Friday) and then Syracuse to visit my aging grandmother who's driving I don't really trust anymore. I nearly tried to pull off Amtrak but I'm working full time this summer and didn't want to leave too early on Wednesday which kicked the Ethan Allen Express off the table to Saratoga Springs (a 3:15pm departure), Amtrak's Empire Service to Rensselaer on paper works with a nearly 3 hour local bus ride to Saratoga Springs with bus service until about midnight but that didn't seem fare to the old family friends I hadn't seen in years that I would be staying with. My parents do have a car so I decided to barrow their old Toyota and drive.
Wednesday evening, I left work around 5:00, got in the car at 6:30, the G.W.B to the Pallisades to the Throughway was smooth sailing, only hit one small traffic jam because of a lane closure on the Throughway, stopped for a quick bite and a rest area, gas in Connie, and got to Saratoga Springs at 9:45.
Thursday I was at the conference and didn't drive, although I did notice a CDTA Low-Floor Transit Bus sitting outside the hotel/conference center that had been chartered for mobile workshops. Apparently the dispatcher ended up leading the bus the whole way.
On Friday I had a nice final day at the conference. Went on a mobile workshop to Lake George where I hadn't been before, sadly on a hot 25 passenger cutaway van bus from an Amsterdam charter company and headed back down to my car parked on the street to this:
Luckily there was a police report on the dashboard with the insurance information of the 90 year old man driving a 2004 Cadillac that hit my parents Toyota. The car is luckily drivable and after a phone call to my insurance company to report it and a couple to my Mom, I'm off to Syracuse. I'm thinking about stopping by the Amsterdam Amtrak Station before I get on the Throughway but a sign at a roundabout on NYS-29 tells me not to head south to the Throughway yet for I-90 West but go via Johnstown and get on the highway in Fonda, missing Amsterdam. I end up enjoying quickly seeing downtown Johnstown, New York, stopping briefly to stretch my legs and make a phone call.
It's eventually a traffic free trip on the throughway to Syracuse.
On Sunday I head home and know I'm taking 17 (soon I-86). I stop in Roscoe for a slice of pizza and see some railroad stuff. There a couple old rail cars on a no longer active line.
 I get back on 17 as it drizzels on and off. I've noticed earlier that the Middletown, NY Metro-North Station is literally two turns off the highway and decide I might as well stop. I get off at Exit 120E make the next right and the next left turn through Big Box Shopping Center sprawl and park quite far from the platform in Middletown/Town of Wallkill–(25 Photos). 
I do my photo essay and look at my phone, glancing at NJT's Departure Vision and Google Maps, the next Stop, Campbell Hall is sort of in the direction of New York and there's a Port Jervis-bound train due in there in 20 minutes, Google Says its a 15 minute drive down backroads. I set the Google Voice on my iPhone for turn by turn directions and am off. I get to Campbell Hall–(44 photos) with four minutes to spare, perfect and get the entirely Metro-North li! It's also a neat stop along a small yard wye for a freight spur of Morristown & New Jersey Railroad, owned by a company that also owns the East Penn Railroad (car code ESPN, hope that's not copy write infringement). I also walk out to the station entrance for the entrance sign photo.
There is a second train going in the Hoboken-bound direction in roughly 40 minutes at Salisbury Mills-Cornwall–(29 Photos). I know the routine, program Google Maps in my iPhone for turn-by-turn directions and head back onto the back country roads for the drive. I get to Salisbury Mills Cornwall with 25 minutes before the train is due.
I do a photo essay relatively quickly and decide I might as well try and get the next Hoboken-bound train crossing the Moodah Viaduct, the longest iron viaduct east of the Mississippi. With 10 minutes before its due I drive back down the curvy and steep exit road. I take my time turning left at the stop sign to get a photo of the entrance sign (I would have walked down the sidewalk driveway if I wasn't in a hurry).
I don't quite know where to go and drive around a bit, I find what might be a good spot had I been walking or biking but no good place to pull over and the road is too busy just to double-park. I end up finding a decent spot with a little turnoff but sadly the train has already gone.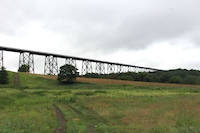 I then drive south to Harriman (stupidly, should have driven across to Bear Mountain and the end of the Palisades parkway), don't bother to visit the train station since I was once dropped-off there. At the Route 17 entrance, dealing with all the post-Woodberry Commons traffic I get onto the Throughway that's stop and go for awhile before I finally get off and zoom down the Palisades Parkway, stop in Fort Lee for cheap Jersey gas, have to go around the block in Fort Lee because a bunch of Port Authority officers are prohibiting Left Turns onto the bridge because of heavy traffic (at the entrance where Bridgegate occurred, all three lanes in the toll plaza from this entrance were open) but after getting on the bridge is smooth sailing across the upper level off at 178 Street and the four blocks home!
In Conclusion, the Port Jervis line with extremely infrequent service and stops not really in towns (because the line was rerouted in 1982 from the former Erie Passenger Main line in 1983 to the Graham Line built for freight trains) is one of the few commuter rail lines in New York that 'doing' by car is the clear choice as much as I hate driving, I pride the website on being nearly entirely done on public transportation or by bicycle in a couple cases  but have come to  the realization that I much rather get the stations done, than never get them because there isn't a clear alternative. I am looking forward to riding the entire branch again (took it once years ago) and doing Otisville as a photo stop (its on the older mainline and appears to have a few things around for what will be at least an hours layover) and also revisiting Port Jervis.