Merry Christmas!
Well, regular life got in the way of the SubwayNut this past November and December, with a far too over committed second semester of graduate school. I finally finished yesterday. I am now starting on a month off for winter break and have a bunch of stuff I'm anxious to get up on the website.
At the end of October (on Saturday, October 25, 2014), as part of my continued research for a paper that I wrote this semester on the never built fixed-link crossing across the Long Island Sound, I went up to Rhode Island with my friend Robbie who's family has a house there via Long Island Rail Road to Greenport – finally riding the stretch between Mattituck and Greenport, and finishing every inch of regularly scheduled passenger rail in New York State – to the S92 bus to Orient Point (via a side trip to get Southold), the Orient Point-New London Ferry and Amtrak the last dash to Kingston.
The trip starts at 181 Street at 8:28am to head down to Penn Station for the 9:14 train to Ronkonkoma to connect to the morning scoot trip to Greenport. I check the Transit app that has the schedule loaded and am happy to see that according to it I'll have 20 minutes to make this connection. The train finally pulls in 3 minutes later. I hope slower weekend service won't make me late. I get to Penn Station at 8:57, on time. There finally done with the Central Park West trackwork! For the past four weekends, the A's been crawling down Central Park West, making me late quite a few times.
I go buy my ticket on the 9:14 train, or is it 9:15. It's just $19.75 for the 96.1 mile ride! Their doing weekend trackwork with single-tracking somewhere, so its a slightly revised schedule. train to Ronkonkoma with connections to Speonk and Greenport and no track posted.
I head to the ClubAcela for some bad coffee that seems more watery than normal. I don't stay long, Train time says 9:12, the boards 9:15.
 At 9:08 I leave and jokingly ask the ClubAcela attends if they know Long Island Railroad track assignments. The response is no, you have to go downstairs for that. I find a departure monitor and go down to track 20, the nice wide, commuter platform.
At 9:15 it's all aboard track 19 and this adventure begins as the doors recycle twice and I text Robert my friend who's doing today's trip with me and is boarding at Atlantic Terminal, more closely replicating the first train to ferry to train trip from the Brooklyn waterfront to Boston.
We're out of the East River at 9:21 as I finish my coffee and ClubAcela Muffin. No more water crossings until the ferry. Tickets are collected through Sunnyside Yards. I grab my computer to hunker down and get some work done.
9:24 – See the Hell Gate Branch curve away.
We stop at Woodside at 9:25, to a text from Robert that he's arrived at Jamaica (on a train up from Atlantic Terminal). The trackwork is making the connection off.
9:32 – Through Forest Hills
9:33 – Kew Gardens
We slowly approach Jamaica that feels slower than normal. We pull in on track 4 that is the odd middle platform. Robert boards. We leave at 9:41
9:38 – Pass over the Jamaica Center Subway Terminus

9:45 – We wrong-rail and go very slowly towards Hillside.
We stop in Hillside at 9:45, next stop Hicksville!
9:48 – Bypass Hollis, not going to keep track.
9:51 – Good speed through Queens Village and work cars. Then Bellrose.
9:55 – Bypass Mineola that's rare, this trip is starting very quickly!
The first stop is Hicksville at 10:01. We leave, curving away from the Port Jefferson Branch at Divide.
Bethpage comes at 10:06. We're a 10 car long train. We pass the station across the tracks and Susan's Pub, home of the 75¢ draft beer.
10:08 – We curve off the Central Branch. No more branches to share the rest of this trip with.
At 10:10 wet stop  Framingdale
10:13 – See the staircase of the former Republic Airport and become a single track.
We see the cemeteries and zoom by Pinelawns tiny platform (you must be in the rear of the train I guess) and stop there at 10:15.
We stop in Wyandanch at 10:18. The large TOD Wyandanch Landing project is already under construction. This is the one stop on the electric Ronknonkoma Branch I haven't been to and I'm disappointed in myself for not getting in on a trip about a year ago before construction really started.
10:20-A former station. I see the auto scrap yard of the day.
10:23 is Deer Park with its solar panelled parking lot. Then minigolf and a driving range. The line is two tracks again.
10:25 – Pass some New York and Atlantic Locomotives.
10:27 is Brentwood. The station house is open and looks crowded, trackwork means hourly service this morning without the half-hourly extra trains. Parking lots have more solar panels. The line becomes single-tracked again. I see a sign for Bethpage Ballpark.
10:31 is Central Islip with two tracks, a siding station again. The line becomes single-tracked again. With the supposed trackwork, we've seen almost none!
We arrive in Ronkonkoma with some extra tracks at 10:37. Our two car train is doubled up towards the front of the opposite platform, with a train two New York leaving from the same track that will go in the opposite direction. As expected, only the front car is opened because most platforms can just accommodate one car.
We walk back to the second car, the interior door isn't locked, the platform doors are closed. The conductor comes to collect are tickets and sort of yells at us for waking back. I tell her I know that the doors won't open (platforms are too short) but remember doing the walk back years ago when one of my grandmothers lived in Mattituck. I ask to keep my ticket as a souvenir and am allowed. Finally a ticket to Greenport! The last two stops from Mattituck is the only stretch of rail with regularly scheduled service I haven't ridden in the state of New York!
We slowly pass the yard. There some confused people with round-trips versus one-ways. We're told to sit towards the front of the car since the rear door will never platform. We pass a concrete plant on this much slower track.
10:48-Go under a highway and past self-storage. It's through houses.
We make our first stop at Medford at 10:53 on a high overpass for two people. One lone car is in its small parking lot. It actually has TVMs visible down bellow. There are trees and some industry. We pass a nearby road with a bike path.
Then it's a field with some wooden equipment who's purpose I'm unsure of. It's another rural stretch before we stop in Yaphank at 11:01. A simple modern platform on an unpaved parking lot.
11:05-An overpass with a sign for I-495 in half a mile a north of us. Then trees.
11:07-It's under the LIE for only the second time today, the other time was back in Queens in Elmhurst before Jamaica.
11:08-Marshland with solar panels. Then trees
11:12-Manorville that once had a station.
11:18-A trackwork gang at Owen's construction.
11:20-Go by Peconic Lake as we enter Riverhead.

We reach the Riverhead Station across from a brick station house and the Railway museum at 11:25. We're two minutes early and leave at 11:27.

Some branches need to be trimmed as we leave the station and see more of the railway museum.
11:29 – See a sign for the Riverhead Aquarium and past more houses.
11:32 – Over an inlet from Peconic Bay.
11:34 – Tree farms and trees with another inlet on this slow track. Some fields are off in the distance.
11:37 – The few houses of Jamesport. I move to the less photogenic south side of the train to glimpse the bay
11:39 – Go through Laurel and pass the field behind the house one of grandmothers lived in for ten years (she's since moved back to Brooklyn), for few years we took the train out to Mattituck with some frequency all because with the family especially it was much cheaper than the Sunrise Express bus (now bought out by the Hampton Jitney). Then it's the grade crossing of Laurel Lane.
 
We stop in Mattituck at 11:39 it looks  exactly the same. We then pass the Mattituck high school. I finally enter my last stretch of new trackage in New York State!
11:44 – Were back in the country and the agriculture of the North Fork

11:50 – pass a lumber yard and more fields.
11:51 – Some lambs.

11:52 – A vineyard then an overpass as Depot Lane for Cotchog passes above us.
11:53 – More wine and a vineyard. We also pass a pipkin patch.
11:55 – Farm equipment and more greenhouses. There also plenty of regular homes.
11:56 – Still some grade separation over a road.
See the post office and we pull into Southold at 11:59. Maybe two people got off. There is a grade crossing beyond the end of the platform.
12:02 – Port of Egypt marina and glimpse Peconic Bay.
 The entrance is scenic with some final glimpses of Peconic Bay. Seeing Long Island's shores is really rare on the LIRR.

We pass the Costello arena, over grade crossings and hear the switches as we pull into Greenport–(71 Photos) at 12:06.
We get our photos of the rail history around Greenport including the small museum and the former turntable.
Then it's time for lunch with burgers at a deli. Before we go out to the ferry, I also want to make a side trip to get the Southold station and have discovered that the 1:00 S92 will get us the 4 miles there at 1:10 for the scoot train at 1:22 and the next hour's bus out to Orient Point at 1:30.
At 12:57 the S92 bus arrives early at its time point. We board and pay our $2.25. As we leave on time at 1:00pm bus going the otherway soon passes us, it's 20 to 30 minutes late. Good to know will be waiting for a while when we double-back to the ferry. We're certainly going to be on the 3:00pm (the bus is scheduled to arrive at 1:55)
1:06 – Over the tracks
1:08 – back at Hashamomuck Pond
We get off this S92 at the main crossroads in Southold at 1:12 (already 2 minutes late) and walk the couple of blocks up to the Southold LIRR Station.
We walk the block up to tiny train platform. The Scoot train that we arrived on going back to Ronkonkoma stops to pick up 2 passengers a minute late at 1:23.
We then head back to the bus stop across the street in front of an autobody shop just before 1:30. Unsure how long we'll have to wait for our S92 dealing with the fall in Long Island Saturday traffic. The S92 is clearly to long a bus route! Suffolk County also lacks a real time bus arrivals system, so no using a BusTime-like app to check the status. I can't even call Suffolk Transit to ask what's going on, there travel information center is open Monday through Friday until 4:30pm only! We keep waiting…
The next bus finally arrives 40 minutes late at 1:10! A new record for an hourly "transit" bus route discounting the time in Detroit I was waiting for an hourly bus that didn't show up and I got the next hours. More people board. It's a good thing the ferry is hourly. We pay another $2.25 fare (you can't use a transfer for a round-trip) and board this bus.
In Greenport the 2:00 bus passes us at 2:18. We stop at the central stop in Greenport. A chatty woman gets on and chats with the driver, there complaining about the city-folk coming out for the pumpkins. We learn the real reason our S92 was delayed, there was an accident in the Water Mill Area. We leave Greenport on what's now a single two-lane road on the now extremely narrow North Fork towards Orient Point. Then it's into the town for the ferry dock.
We arrive at the ferry dock at 2:40, 20 minutes before the 3:00pm ferry (the previous one was at 2:00, and we couldn't have caught).  The bus stops beyond the "Welcome to New York State" sign. We go inside the small office (unlike the Bridgeport-Port Jefferson Ferry, you don't pay onboard) and buy two tickets to New London for $14.94, the extremely awkward amount is the fact its a $14.50 fare plus a fuel surcharge who percentage varies depending upon the price of fuel.
We then slowly board our ferry. The MV John H. The car deck has two levels but light loads mean only the lower deck is in use today.
I'm out on deck watching us leave a after 3:00pm, the same time as our S92 leaves it's stop to turn around even closer to the ferry dock. It will soon begin another extremely long, local bus run to East Hampton, a 70 mile, 2 hour and 15 minute scheduled journey.
The ride starts with the boat turning around in the harbor since we've boarded into the bow. The deck's a bit loud because the boat is full of a Connecticut Special Olympics team who've brought a not very good live jam band with them.
The ride is relatively scenic, the dock is on the south side of Orient Point in the headwaters of Peconic Bay so we head out into the bay before turning north and entering Long Island Sound though Plum Gut. We then follow Plum Island for a bit before cutting due north across the middle before reaching Fishers Island.
We reach a neat little lighthouse and then slowly pull up the Thames River Estuary up towards downtown New London.
We get some neat riverside views of the New London Train Station–(7 Photos) as we enter. We then pull an 360 in the Harbor, so our roll-on-roll-off ferry can back into the dock appropriately at the stern.
As we dock we head downstairs to try and get off. We dock at 4:25. The Cross-Sound Ferry lacks a separate gangway system for pedestrians so everyone shares the same ramp as the roll-on, roll-off cars. I don't know if its standard operating procedure or because of the special Olympic Kids on board and the crew is trying to have an environment with complete control but we have to wait for every single car to get off the ferry BEFORE pedestrians. We've a little anxious because were trying to catch Northeast Regional Train #82 for the short ride to Kingston that is scheduled for 4:34pm, we know its running about ten minutes late.
We don't have tickets yet because Robbie has a few expiring 10% off coupons from qualifying for Select a year before that expire at the end of the month. We go to to the ticket office and have a very efficient ticket agent that accepts our coupons reducing the walk-up fare from $15 to $13.50.
Northeast Regional Train $82 is pulled by an HHP-8 (probably my last ride pulled by one ACS-64s have put them on severe life support) and enters about 7 minutes late at 4:42. It's a long dwell with just 3 doors opening and the conductor needing to grab a bridgeplate for a women with a walker. We walk down to the low-level platform, and another open door. We leave 4:46.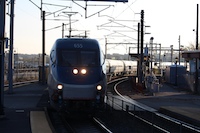 4:55 – Bypass Mystic
5:02 – Bypass Westerly
We arrive in Kingston at 5:17, to Robert's parents picking us up. I spend the night at their home in Quonnie.
The trip back to New York City, the next evening is by car with Robert and his parents. It's relatively uneventful, just listening to the World Series.