I have a nice walk in Brunswick, stopping at a cafe to use the internet for a bit and for some pizza for part of my dinner. I also need to sample something from the Downeaster Cafe car since it tries to be local (and is cheeper) like the one on Amtrak Cascades. I return to the station around 5:25 and find a sign for the Downeaster Shuttle (that is hiding behind another sign) that I make sure I photograph.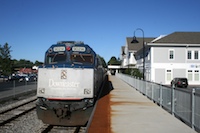 At about 5:32, as I walk the platform a final time, I notice boarding has commenced and I decide to board soon after. I eat the pizza I've bought before it gets cold.
On time at 5:50 Train #698 and I leave Brunswick for the second time today, passing some houses and a little industry before trees take over the view, making good speed on clearly new track
5:58 – We slow down for the grade-crossing on the edge of Freeport. I notice an old milestone for 9.
6:01 – See houses as we actually enter Freeport, this part of the Downeaster is so new people are surprised to see the train.
At 6:02 we arrive in Freeport, 3 minutes early, stopping at its mini-high platform that requires a bridgeplate. 3 passengers are getting off. There about 8 people waiting to get on and the same station volunteer helping them. I thought their might be more getting on in Freeport. Daytrippers for Shopping. We all fit comfortable in one car. Most of them are intermediate travelers. We leave at 6:05, on time.
We pass a few L.L. Bean Canoes (I presume) and leave this shopping town behind going back to the woods, passing some farmhouses and I notice all new crossing gates.
6:08 – They announce the cafe will open in about ten minutes after the attendant goes through his stock that got dropped off in Brunswick. The Downeaster is different! They actually send a vehicle to restock at the Brunswick terminus? On any other Amtrak train we would be left with the stock from this morning.
6:12 – Pass some water and another grade-crossing, a few white houses in the evening light. There a few scattered areas of agricultural land. Then back to woods. The new track is clearly welded rail but not high-speed.
6:15 – A stone for MP-186. Then our first cows on the edge of a field.
6:16 – Houses get more numerous and look newer, the suburbs of the community of Falmouth,
6:17 – MP-189 and to the evening light on trees.
6:20 – Start passing more houses, some looking older as we get towards the center of Falmouth. MP-193.
6:21 – slow down and see some MOW equipment on a siding as we pass Bruno's Resturant and Tavern. Then a small and nearly abandoned looking yard with just a few tracks left.
6:23 – We start coming into Portland going slower, passing houses and businesses with plenty of trees to shelter the railroad from backyards. The current Portland Station is out of the city away from downtown, south of it. Access into the station from Brunswick requires a back-up move since Maine didn't build a wye to complete access into the current station. We keep passing houses and parkland.
6:26 – Under I-295 (we will cross under it again when we begin the back-up move into Portland)
6:27 – See what I assume is the Seat Dogs Stadium and the Greyhound Station a block away as we pass behind Maine Hardware.

We pass the track that requires us to back into the Portland Station with a rail fan on a bike photographing us. We come to a stop at 6:29. It takes four minutes to complete the formalities for reversing and at 6:33 with a Double Toot we begin the back-up move, switching onto the other track and curving into the station.

We go under highway and arrive in Portland at 6:38. I notice the crew is changing and realize we have 7 minutes so I hop off for some photos. I notice a pair of people loading their bikes into the Cabbage (beyond the high-level platform) and I walk down for a photo of the Cabbage. The conductor yells at them for leaning their bikes up against the car because we have to complete a break test. No one says a word to me.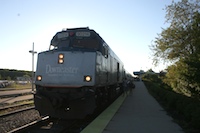 I re-board with the remaining line of passengers at about 6:42, not waiting for the "All Aboard" from the conductor since no one else has stepped off. Happy I've gotten more photos of the restricted access platform in Portland. There is a large group coming back up on the late night train today (11:20pm to 1:45am) only going to Old Orchard Beach to party. The conductor is giving all of them 1-800-USA-RAIL so they can call if the train is late. She also replaces the intermediate seat checks (ripped pieces of paper from the previous crews) with usual written scribbles with the station codes on them. Blue still means BON.
6:48 – Rejoin the Main(e) Line and continue south, and through a wye to what looks like a rock yard.
6:49 – Pass a graveyard and MP-198, before going across the Fore River Estuary

6:51 – A yard and locomotives for the Gilford Railroad System, now called Pan Am Railways, some locomotives in the new paint scheme, others not. Gilford owns the name (and owned the last attempt at an airline and decided to use the old airline name for their railway).

6:53 – Were making good speed as the railway curves away and we pass a lumber yard.
6:54 – We pass a few houses as the line continues double-tracked and then some tank cars on a siding.
6:56 – Pass some meadows that turn into wetlands, we're getting towards the ocean, some water that we cross run through them.

6:57 – MP205
6:58 – Get behind houses, I see some people at a motel balcony and some beach growers waiting to cross. It's packed, we pass the ferris wheel and summer amusement area that is the Seasonal, summer only Old Orchard Beach Station.

I see a crowd on Old Orchard Beach's mini-high platform and we arrive at 7:00 (on time). An equal number of people are getting off to go party. We leave at 7:02. I notice a couple discretely drinking the wine they brought on board.
We slowly leave Old Orchard Beach. The conductor calls everyone honey, as we pass houses. There lots of people going to Exitor, the seat checks get Xs.
7:05 – Leave the water and head inland passing some houses.
7:08 – Slow down in trees some houses inside them.
7:09 – MP-210. We keep going slowly and come to a stop outside of Saco.
7:14 – The northbound Downeaster Passes Train #695. A man (from a contractor), a paid employee of the Downeaster and Northern New England Passenger Rail Authority comes through with a survey.
At 7:18 we arrive in Saco which has a good crowd boarding at its mini-high platform directly attached to a modern transportation center. There no steps to go down between the platform and transit center. We pass an old industrial downtown as we leave Saco and then what is clearly a former depot off to one side of the tracks. We return to the woods, 15 minutes to Wells, my last stop in Maine. Houses continue.
I go up to the cafe car and find the most unprofessional attendant, not in uniform who tells me his last day is tomorrow (as in he is leaving his job at Amtrak and the Downeaster). He is unenthusiastic and their of course out of the Clam Chowder what I really want (to compare it to the chowder on Amtrak Cascades) and about 18 different things. I saw restock boxes in Portland but am told that they only gave him items he already had. I decide to try a local sandwich from a place in Portland. It has the soggy bread of sitting in a fridge but is much better than my last AmSandwich on Acela. We continue through trees with few interruptions.
We arrive in Wells, Maine at 7:34 to a few people getting off and more on. Were 12 minutes late. This stop has a slightly longer mini high-level platform with grey railings, followed by a low-level platform beyond it. It has a modern station building for passengers. There is a second track here that doesn't platform. We go back to the trees in the setting sun. I need to ride this train in winter without foliage.
7:40 – Some houses in a meadow
7:44 – See farmhouses off in the distance.
7:46 – A nice quick view of the setting sun over some fields.
7:47 – Cross a much narrower river (than you cross on I-95 hugging the coast) and into New Hampshire passing some freight cars going the other direction
7:51 – Get the announcement for Dover, again just the door between the cafe and first coach opens for some passengers. We cross a bridge and houses into town.
At 7:52 we arrive at the mini-high platform with a green roof that looks like its made of wood for a few passengers and a volunteer. There is also a small green painted station house set back from the platform. We're 12 minutes late! The time lost for the late meet. We continue along, through the trees of New Hampshire.
At 7:59 I see a parking lot, and pass an old looking station house turned restaurant. The short high-platform has wooden accents and lacks a shelter since its underneath a highway overpass. I hear the bridgeplate being positioned for the one passenger boarding and we leave at 8:00, 13 minutes late. Most of the time lost because the last northbound train was late at the siding for the meet.
We pull into Exeter, now fully in the dark at 8:13 to over a dozen people getting off. We pass the historic station house before arriving at the modern, short high-level platform that every new Downeaster Station has except for the two terminuses. Only two passengers get on. All the signage is new here too, showing the route to Brunswick almost in the format of the MBTA.
8:31 – New Hampshire was quick, the conductor is coming through announcing Haverhill.
At 8:34 we arrive Haverhill, a very quick stop at the modern MBTA high-level platform. I don't think this was hear last time. There is a very large garage.
8:36 – We cross a bridge and the conductor collects everyone's seat checks. I notice an old depot and a mini-high platform, Bradford, directly across the river from Haverhill. The MBTA track really needs to be improved. We go slowly down old jointed rail.
8:43 – We pass a train going the other way, wrong railing.
8:45 – Pass Lawrence through the lights of a city, a very short platform.
8:50 – Andover on the slow-moving MBTA track. I feel a little bit like I'm on Acela crawling through Metro-North territory.
8:53 – Ballardville
9:03 – I'm not paying attention as we go down the Wildcat Branch to transfer from the Haverhill Line to the Lowell Line and pass Wilmington
At 9:05 we arrive at the Anderson/Woburn Transportation Center, a modern Park & Ride Station with high-level platforms. A number of passengers get off to drive to their homes in the suburbs. It's the Downeaster's equivalent of Route 128 with an on-ramp connected to the station and I-93, Route-128 is one exit south.
9:09 – Pick up speed and pass Mishawum.
9:13 – Lights and a platform, not good signs. Then another station. Inner suburb stations, I later look up and learn these are Winchester Center and Wedgemere.
9:16 – West Medford. We slowly enter Boston, I see the lights. No way could I have connected to the Night Owl to continue south!
At 9:21 we cross a bridge and see highways as we slowly enter. I see an orange line station, Community College as we very slowly enter. I feel the switches and the modem cable-stained steel truss bridge. I see the TD Garden and we enter North Station where I notice only one Commuter Train on Track 9, the far one is also in the station.
Are official arrival time is 9:24, 9 minutes late. I quickly get some photos of the dark platforms at North Station and walk inside. I stop at the ticket window and ask about buying tickets to Cape Cod for tomorrow. I'm told "Sorry, were not allowed to sell them."
I head outside and down the entrance to the Green Line Subway at North Station. I put some money on my CharlieCard and just catch a crowded single E car to Heath Street. I get off at Government Center but get on again unable to remember if the D Riverside that I need terminates at Government Center or Park Street. The MBTA really needs to label the terminuses of the Green Line branches in downtown on their maps. I get to Park Street and a D is arriving across the platform, also a single low-floor LRV.
This trip is because I'm staying with my relatives in Needham for a short night until we take the CapeFlyer out tomorrow, where my grandmother is. Normally I would just take the commuter rail out to Needham (no longer has weekend service) or Wellesley (next train is at 11:00pm) so I'm going to get picked up at Eliot. The single car is crowded. The train slowly empties out as we leave Boston and I get off at Eliot at about 10:15, the end of a very long day from Bangor to Boston.