Yesterday I returned from a quick 3-day visit to my grandmother in Syracuse. I thought of taking Megabus at least one way but the train was only $10 more so I took my familiar route up the Hudson and across to Syracuse. I did though for the first time discover (how did I not know before) that Amtrak does not charge extra for same day layovers as long as the stop is served by more than one train a day. You do though get charged whatever the most expensive bucket of the trains you've chosen so on the way up there on a Wednesday it made total sense, but coming back on a Saturday only one train was left in the cheapest bucket so I decided to return home direct, and also had evening commitments.
Wednesday started with me having a nice 2 mile walk part way with my Brother to the Yankee-E 153 Street Metro-North Station, there I bought a ticket to Poughkeepsie, took a local to Terrytown and transferred to my diesel train to Poughkeepsie–(30 photos and a page summery added) where I had a tiny-bit over an hour layover (if I had taken the next train it would have been two minutes), and did a substantial photo essay of the historically restored with renovations just completed station.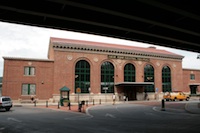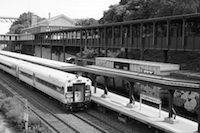 Next I took crowded Empire Service Train #281 which left at 11:46, 10 minutes late, a quick hop until 12:07 for a photo essay of Rhinecliff, NY–(60 photos!). This station is in the middle of a tiny hamlet, but has an excellently restored NY Central Station house and view of the Hudson. I was hungry and had planned to use by layovers for Lunch but the hotel and local closed Chinese restaurant nearby along the river looked far too elegant. I photographed a Southbound before my next train, #233 finally arrived 20 minutes late at 1:40.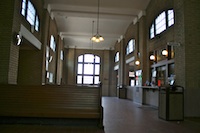 It was another quick hop on a fairly empty foodless Empire Service train that was only going as far as Albany to Hudson, NY–(36 photos). Here I immediately started walking into the charming little town and stopped at the first restaurant I found called Mod, and had a nice time reading my book and eating an overpriced sandwich, before I knew it it was time to return to the station to finish my photo essay of New York State's oldest continuously operating station house, so I could get on my next train #283, it came in 20 minutes late at 3:37PM.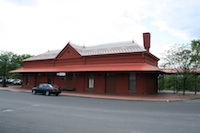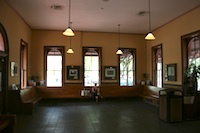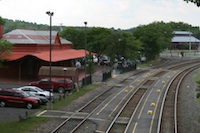 It was than an uneventful ride to Syracuse where we arrived on time with by far the shortest layover I've had in Albany where I did not even bother to detrain as I typically do. Writing these webpages on the train, unable to upload them until now due to my Grandmothers lack of internet.
My Return on Saturday:
The trip to Syracuse was quite eventful in my website's worldas me and my Grandmother finalized a trip to British Columbia to go on a Rocky Mountaineer Vacation for this October, which will then bring me to finishing the Pacific Northwest for this website and probably another cross-country trip on the Empire Builder (want to see if my more experienced non-16 year old self still finds it so amazing).
My return I thought would be a typical Syracuse-NYP ride until Friday when my Grandmother was talking about how she was going to drive to Rome to visit a client after she dropped me off at the station. I had luckily already picked-up my ticket (Rome is an unstaffed station) and decided to go with her to get another photo essay of an excellently restored NY Central Train station: Rome, NY–(40 photos). I'm now missing just four out of 16 Empire Service Stations!.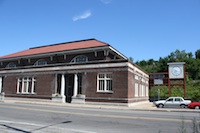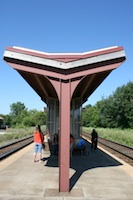 It was another uneventful ride back to New York, me working on the website on my laptop. I got off in Albany and had a conversation with our incoming conductor for New York who commented on my Expos cap. When I got to Penn Station about ten minutes late, I was planning to meet a friend coming down on Train #163 from Kingston, RI, he though was delayed because of bridge issues in Mystic (we discussed by cell phone) but when I got up to the central lobby the big board showed his train down to Washington as On Time so I was optimistic and then confused when the Arrival TV monitors said his train was 55 minutes late. Shortly Train #163 was announced as "The Make-Up Section of Train #163." I asked one employee who made it sound like the train was there before asking the employee checking the tickets of departing passengers at the top of the escalator who told me the train would arrive in 45 minutes. Guess Amtrak originated the Trainset for the next hours Regional #159 (due to depart at 5:05) an hour early and had the rest of Train #163 coming down from Boston make-up that train's stops.
The two of us then went to meet other friends to see the final installment of Harry Potter (via a crowded Q train to Brooklyn) and when I finally went home around midnight it was a bit of an eventful journey at Chambers Street where the uptown A trains were bypassing running via the F due to track work. It was late and I refilled my MetroCard with the agent who told me to take the E, as I noticed the note on the whiteboard. I said my goodbyes to my Brooklyn-bound friends on the mezzanine before walking down the E platform with a train stopped and having the doors close right before I could step-aboard, not wanting to wait the 20 minutes for the next one I decided to walk down to the 2 train (partially planning to check the countdown clock but Chambers doesn't have them) but it arrived almost immediately and I took it to 59 Street (running local because it always does during late night hours, but a weekend G.O. was also closing South Ferry making the 1 terminate at 14th Street so it would have done this anyway), and my A local came almost immediately.