Trenton

Hamilton
Home
<Philadelphia<SETPA Regional Rail<Trenton Line<
Trenton, NJ
Trenton Transit Center both serves the state capital of New Jersey and is the connecting point for passengers wanting to take the train between New York and Philadelphia or local stops in between. The station is the terminus of New Jersey Transit's Northeast Corridor Trains that run half-hourly or better north to New York-Penn Station, and SEPTA Regional Rail Trenton Line trains that run hourly or better south to Center City Philadelphia. Passengers wanting a consistent fare of $10 cash for SEPTA ($8.25 with a Key Card, not available for purchase at Trenton Transit Center) and $16.75 for New Jersey Transit and don't mind spending between 2 and 3 hours on the journey have transferring in Trenton as an option. Amtrak fares between New York and Philidelphia do start at $19.00 (when doing this analysis with lower COVID related travel demand in February 2021) but day off are at least $67.00 and can rise to be even higher. The cheapest way through to get from the Big Apple to the City of Brotherly love (without booking through an advanced Amtrak sale) by train (the bus is generally cheaper) is actually to include some local train lines in the process: taking a PATH train from New York City to Newark-Penn Station ($2.75) to a New Jersey Transit train to Trenton ($12.50), transferring here to the RiverLINE that originates at a platform upstairs and costs just $1.60 to go the 32 miles down to Walter Rand Transportation Center-Broadway Station in Camden, and then a transfer to the PATCO High Speed Line ($1.40) the short distance over the Ben Franklin Bridge into Philadelphia. So this option costs just $18.25, and takes a little over 3 hours, but service is every half-hour or better.
Amtrak also serves Trenton as a major stop, with all Northeast Regional, Keystone Service and Long Distance trains that use the Northeast Corridor (Silver Star, Silver Meteor, Crescent, Palmetto, Cardinal, Pennyslvanian, Carolinian, and Vermonter) stopping. Most Acela Express trains skip Trenton, running non-stop between Newark or Metropark and Philadelphia, but a few Acela trains do stop. Amtrak no longer provides checked baggage service in Trenton with this service ending with the start of January 1996 to cut costs, and is the only stop on the Northeast Corridor served by all long distance trains that does not have baggage service. The stop still has open New Jersey Transit and Amtrak ticket windows open for most departures. SEPTA one-way tickets can be purchased at New Jersey Transit ticket windows and TVMs.
For trains, the station has six through tracks and two additional siding tracks on either side of the platform area. For trains the middle-most tracks go through the station without platforming and are used by Acela Express trains skipping Trenton and the occasional freight train that is extra wide and would brush-up against a high-level platform. The next two sets of tracks (four tracks on each side of the express tracks) each have two island platforms that can accommodate at least 12 cars, with the southbound platform (tracks 4 and 5) extending a bit farther north than the northbound platform making them offset slightly. Track 1 can acclimate fewer cars with switches occupying the southern end of the platform for Track 2. These are where all trains stop, with SEPTA and New Jersey transit trains coming into the station in a way that sometimes a terminating SEPTA train pulls on the same track just behind an originating New Jersey Transit Train and vice-versa, allowing a through Amtrak train going in the same direction to platform on the same platform at the same time, and passengers changing between these regional rail trains to simply walk up the platform. Beyond these platforms is a single-through siding track to the north and another siding track to the south. This southern siding track 3 does have it's own low-level platform and a staircase up to the station's concourse and exit, but is along an employee parking lot in the railroad cut and is not used for regular service. For train storage, most New Jersey transit trains continue past the station, over the Delaware River 2 miles to the Morrisville Yard that New Jersey transit built on a former freight yard in 2006. SEPTA trains are stored on the siding tracks around the station, although many trains just reverse in the station and head back to Philadelphia.
Each platform's exit is via the main station concourse that is elevated above the tracks near their southern end. This concourse has large white letters that spell out 'Trenton Transit Center' on it's exterior walls. From the pedestrian bridge an elevator on the southside, and staircase followed by an escalator on the northside leads down to each platform. These arrive at a platform that is canopied for about 3 quarters of their lengths, the platforms around the canopies are wide, and include a couple of on platform enclosed waiting shelters a newsstand, plus NJ Transit Ticket Vending machines (there are also many in the concourse) for passengers changing trains who need to buy tickets. The canopies are held by historic looking columns and a steel truss roof.
To leave the station the pedestrian bridge/overpass is the interior space of the Trenton Transit Center, this building extends across the rail line located in an open-cut, with entrances at street level at each end. This building was built starting in 2006 and was dedicated in July 2008, replacing a former boxy AmStation built by Amtrak in the late 1970s (albeit not quite the normal AmStation since it had to adopt to the footprint of being housed in a narrow space above the train tracks). The main entrance is through the Wallenberg Avenue Concourse. A wide entrance plaza at the intersection of Clinton Avenue and Raoul Wallenberg Avenue is elegant with circular bollards and a sculpture as part of a public art installation. Passengers connecting to and from the River Line, must cross Clinton Avenue (that soon crosses the railroad line at an angle beyond the end of the platforms) to its separate platform area. Inside is an airy wider area, and contains the station's Amtrak and NJ Transit (also selling SEPTA tickets) ticket office, along with a separate NJ Transit Customer Service area plus some ticket machines. There is also a McDonald's. Continuing through the middle of the Wallenberg Avenue Concourse is the entrance to the Central Concourse, beneath some old fashioned Solari boards and onto the wide bridge over the track area with the elevators and staircases down to each platform, seating for waiting passengers is in a small area directly above the middle four tracks (including the two express tracks). On each side of the waiting area are additional concessions, including a newsstand and a Dunkin Donuts. The opposite end of the wide concourse with platform access is the Walnut Avenue Concourse. This entrance is a bit narrow but still in the same airy style as the Wallenberg Avenue Concorcouse. It leads to another passenger pick-up and drop off loop, and a nearly 1800 space 6 story parking deck for the station located across the street, owned by New Jersey Transit. The station doesn't have a dedicated bus loop or bus bays, connecting bus service (including four bus routes branded as CAPITAL CONNECTION, that run between the train station, state house, and other government buildings) and stop on each side of Wallenberg Avenue, just across the vehicle drop-off loop.
Photos 1-7: 31 March, 2005; 8-27: September 15, 2011; 28-31: May 28, 2014; 32-37: July 31, 2014
Home
<Philadelphia<SETPA Regional Rail<Trenton Line<
Trenton, NJ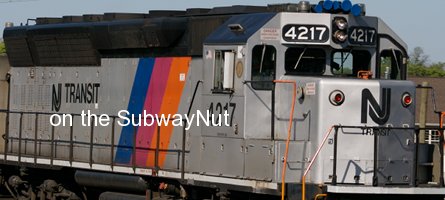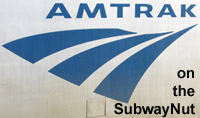 Last Updated: 28 February, 2021
This website is not allifiated with New Jersey Transit, their official website is here
This Website is maintained and copyright © 2004-2022, Jeremiah Cox. This website is not affiliated with any transit provider. Please do not remote link images or copy them from this website without permission.