Denville

Dover

Mountain Lakes

Mount Tabor
Denville Station is located just east of the junction point where the Montclair-Boonton Line and the Morristown Line re-join each other. This means the station has separate platform areas for the Montclair-Boonton Line and the Morristown Line, with the station's main 106 space triangular parking lot between them. The Morristown Line tracks are electrified, while the Montclair-Boonton Line track is not; since electrification on the independent Montclair-Boonton line doesn't begin until Montclair State University.
The Morristown Line has two low-level side platforms for two electrified tracks. These are on a fairly, sharp curve as the line curves south away from the east-west Boonton Line. These platforms begin just a short distance away from the junction with the Montclair-Boonton Line with one 90-degree angled parking space between the Montclair-Boonton Line platform and the Hackettstown-bound platform, before they curve south. In the middle of the longer 6 car long Hackettstown-bound platform, and towards the end of the shorter Hoboken-bound platform is the grade-crossing of Easting Lake Road, splitting the platforms in two. At the southern end of both platforms is a ramp leading up to a mini-high level platform for some wheelchair accessibility. The Hoboken/New York-bound platform has a modern shelter structure covering a bench and TVMs, this shelter has a shingled roof, windows, and a heat lamp and is painted brown. Both platforms have an additional black bus shelter just before the mini-high platform at their separate southern ends.
The Montclair-Boonton Line has a single low-level platform for 3 cars on the south side of its unelectrified single track (that is running straight in an east-west direction). Train service is only provided during peak direction rush hours using diesel trains to and from Hoboken on this line. There is a siding track running along this track, but it now leads to some abandoned industrial sidings. Towards the western end of the platform is the grade-crossing across the middle of the platform to the station's 2nd and larger parking lot. This grade-crossing provides the only entrance to this parking lot. Amenities for passengers are a bus shelter and a ramp-up to a mini-high platform at the southern end of the platform.
Along the Montclair-Boonton Line platform is the historic Denville Tower. This tower is currently unused because of Centralized Train Control but is well preserved. The stop used to also have a train station, but it burned down in a fire on September 21, 1991 and was never rebuilt.
All Photos: September 9, 2011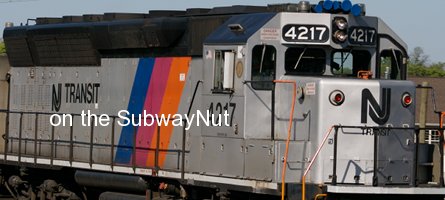 Last Updated: February 14, 2021
This website is not allifiated with New Jersey Transit, their official website is here
This Website is maintained and copyright © 2004-2022, Jeremiah Cox. This website is not affiliated with any transit provider. Please do not remote link images or copy them from this website without permission.