DOVER

Mount Arlington

Denville
Dover is the end of electrification on the Morristown Line (ex-Lackawanna main line). Electrification arrived at the station in 1931 and has never been extended, with the station is home to the electrified 12 track Dover Yard. The station is terminus of most Morristown Line MidTOWN DIRECT Trains (some terminate short at Summit) to and from Penn Station, New York and receives service hourly or better 7 days a week. Montclair-Boonton Line service to Dover is infrequent, operating in the peak direction rush hour (AM trains to Hoboken, PM trains from Hoboken) with only diesel service to and from Hoboken since its line isn't electrified after leaving the Morristown Line at Denville until Montclair State University. Diesel service, running to and from Hoboken extending west to Hackettstown (a few trains terminate at Mount Olive or Lake Hopatcong) is infrequent with just 12 to 13 trains per weekday combined with trains running via the Morristown Line or the Montclair-Boonton Line, and no weekend service.
The station itself has a historic station house built in 1901 designed by architect F.J Niles. It is a two-story red brick station along Dickerson Street, and is a major landmark of the Blackwell Street Historic District. The majority of the station has been turned into a space for a restaurant, but New Jersey transit still maintains a small ticket office and waiting room with a wooden bench. The depot leads out to long attached covered stretches on both sides of the north track although trains no longer stop at this low-level platform and instead use a modern accessible, high-level island platform for the two-track line across from the depot.
The island-platform begins with a pedestrian grade-crossing (with gates and bells) over the north track up to a short winding ramp and plus steps. This entrance means the south track has slightly more space to platform than the north track. The platform is covered with a canopy structure held up by red columns starting at it's eastern end and running about 2 car lengths, the rest of the platform extends west exposed, allowing 8 cars total to platform and ends with a ramp down to the middle of the grade-crossing of Morris Street.
For parking, the station has a main lot just south of the depot, a second lot across Morris Street on the south side of the tracks, and 3 more small lots that are farther west of the station on both sides of the tracks. There are a total of about 950 commuter parking spaces costing $3 per day or with a monthly permit.
All Photos: July 16, 2013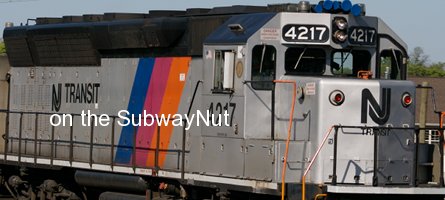 Last Updated: February 10, 2021
This website is not allifiated with New Jersey Transit, their official website is here
This Website is maintained and copyright © 2004-2022, Jeremiah Cox. This website is not affiliated with any transit provider. Please do not remote link images or copy them from this website without permission.