University Heights station is located on the banks of the Harlem River. The station is under the University Heights Bridge, where 207th Street crosses the Harlem River and becomes Fordham Road. The station was rebuilt in 2004-2005, although it had an elevator and was accessible before the renovations. Today it consists of a single island platform that can accommodate four cars between the eastern two tracks of a four-track line. The station has a single entrance from the south sidewalk of Fordham Road/the start of the pedestrian path of the University Heights Bridge. The entrance leads to a small enclosed area with the station's TVMs followed by an elevator and a staircase down to the platform. The canopy covers half the platform. Beneath the canopy is a single enclosed waiting area and benches are along the rest of the platform.
During the station's renovation a temporary platform for two tracks was built north of today's station. This platform was accessed only by the north sidewalk of Fordham Road that doesn't cross the bridge. Access then (without a sidewalk in this area from Manhattan) required crossing all four on/off ramps of the Deegan Expressway and walking up to Cedar Avenue before reaching a legal crosswalk across Fordham Road.
Photos 1-12: 16 February, 2005; 13: 21 October, 2005; 14-24: 31 May, 2008; 25-36: 31 October, 2012; 37: 21 October, 2013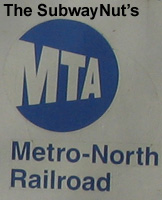 Last Updated:19 July, 2014
All photos are by Jeremiah Cox
This website is not allifiated with MTA Metro-North Railroad, there official website is here
This Website is maintained and copyright © 2003-2021, Jeremiah Cox. This website is not affiliated with any transit provider. Please do not remote link images or copy them from this website without permission.