Stratford is a station on the New Haven Line that has been left unimproved since it received high-level platforms in the early 1970s. These two side platforms are extremely short for the 4-track line, each only accommodating four cars. The station is located along the New Haven Main Line just a little over a mile west of Devon with the Housatonic River movable bridge in between. Devon isn't a passenger station any longer but it is still the place where the Waterbury Branch separates from the New Haven Main Line. The small Stratford Station though is not the transfer point to the diesel Shuttle trains that serve the branch with trains (and passengers going from the Waterbury Branch to New Haven) continuing 5 miles from Stratford to Bridgeport where the transfer occurs. As of the November 2013 timetable, two Waterbury-bound trains, and one Bridgeport-bound train due make Stratford as an intermediate stop. The through Shore Line East Trains also have an interesting stopping pattern with the eastbound 3 trains (going to Old Saybrook or New London) stopping at the station, but the westbound 2 trains bypassing it (only intermediate stop between Stamford and West Haven is Bridgeport).
The two platforms are just northeast of the underpass of Main Street that serves as the only connection between the platforms. Each platform has a small parking lot along it with the New Haven-bound platform just north of I-95 (the Connecticut Turnpike). For amenities there are station buildings along both platforms. These buildings each have gabled shingled roofs and grey walls with white trim and couple remaining chimneys but have been extensively modified since the 1890s. The building along the New Haven-bound platform is the National Helicopter Museum and along the New York-bound platform is the Station House Wine Bar & Grill and the Coffee Stop. There is no real railroad waiting area. TVMs are in a shelter (a 3 MNR types in one shelter) outside the station. The platforms have different amenities for waiting passengers. The New York-bound platform, relatively recently, has received a modern canopy structure with glass windscreens behind the still present 1970s grey railings. The only amenities on the New Haven-bound platform are two white domed bus shelters.
Photos 1-55 2 November, 2012; 56-64: 1 August, 2015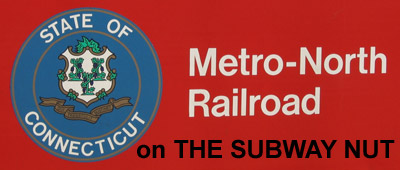 Last Updated:2 August, 2015
All photos are by Jeremiah Cox
This website is not allifiated with MTA Metro-North Railroad, there official website is here
This Website is maintained and copyright © 2003-2023, Jeremiah Cox. This website is not affiliated with any transit provider. Please do not remote link images or copy them from this website without permission.