Madison is the last intermediate Shore Line East town to receive Amtrak service with train service stopping there until the Beacon Hill (a Boston-oriented Commuter Train operating to New Haven) was discontinued on October 24, 1981. In 1980 it even had two trains per day with fittingly named The Shoreliner. The Amtrak station was located along Bradley Road just east of Wall Street and this was where the Shore Line East station was located until the current high-level platform and new parking lot opened on July 28, 2008. The current station is a block east of the previous station between the overpasses of Highway 79 (Durham Road) and Old Highway 79 with all access from the south via the driveway north from Bradley Road by walking through the station's 199 space parking lot.
The current station has the normal high-level platform that can accommodate about four cars. The platform has the normal wooden underside canopy that covers about half its length with red beams holding it up. Red is also the color of all fencing on the platform. There are a couple of small glass windscreens that extend a small distance out from each end of the platform and have Connecticut Commuter Rail logos etched into them. A automatic 'Train Approaching Stand Behind Yellow Line' voice and display is activated whenever a train is approaching the station. The one entrance has a staircase up to a small covered windscreened waiting area with benches set back from the platform plus a ramp down to the parking lot. This entrance has a white flat area where the roof is slightly gabled with a small glass copula capped by a decorative Connecticut Commuter Rail weather vane. Just east of the new high-level platform is a pathway green fenced off gate that leads to a small low-level platform and pedestrian crossing to a north track with a Wheelchair Lift sitting on the platform. This is used in the event of single-tracking (instead of a bridge plate) so a train can stop at the station on the north track.
Photos: 21 August, 2013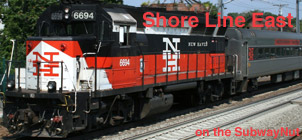 Last Updated:2 September, 2013
All photos are by Jeremiah Cox
This website is not allifiated with Shore Line East, there official website is here
This Website is maintained and copyright © 2003-2013, Jeremiah Cox. This website is not affiliated with any transit provider. Please do not remote link images or copy them from this website without permission.