Clinton opened as a Shore Line East Station with the beginning of service in 1990. The station originally had the simple temporary design of a wooden platform and bus shelter. The current high-level platform opened on July 25, 2005, the first to open at the intermediate stations. It is located along the south side of the tracks and can accommodate about 3 cars. The northern half of the platform is canopied with blue beams holding up the canopy and is the color of all platform fencing. Here is a small windscreened and covered waiting area that extends back from the platform. It leads to one staircase down to the eastern end of the station's small parking area nestled between buildings and Main Street. The top of this covered area has Clinton in gold lettering along the white wall that covers the side of the small waiting area's gabled roof. The understory of the ceiling is wood offering something visual pleasing to look up at. In the middle of the roof is a cupola with a whether vane on it. At the western end of the platform is another staircase followed by the ADA ramp. The ADA ramp leads down to the narrow parking lot parallel to the tracks with a small intermediate landing (the parking lot is at a slightly lower elevation than the tracks) to a gate in the green fence that keeps trespassers out of the Northeast Corridor. Through this gate is a tiny concrete platform that leads to a level crossing across the south track to the north track in case single-tracking is occurring so Shore Line East Trains can still stop at the station.
Photos: 21 August, 2013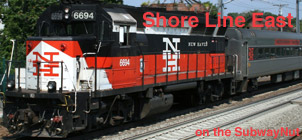 Last Updated:2 September, 2013
All photos are by Jeremiah Cox
This website is not allifiated with Shore Line East, there official website is here
This Website is maintained and copyright © 2003-2013, Jeremiah Cox. This website is not affiliated with any transit provider. Please do not remote link images or copy them from this website without permission.