Riverside is a Metro-North Station in Greenwich, Connecticut on the east side of the Mianus River bridge. The Cos Cob Station is just 0.6 miles west of this station and the public timetable list both stations at 30 miles from Grand Centrale. Walking between the stations is approximately 2 miles because it requires walking north to Route 1 (Putnam Avenue) since the railroad bridge nor the I-95 bridge just north of the station has a pedestrian sidewalk, so a geographic feature keeps the two separate stations alive.
The station contains two six car side platforms for the four-track line, built during the early 1970s for the Cosmopolitan cars. The two platforms are minimally (maybe a quarter car length) off-set from each other with the Grand Central-bound platform running farther west. These two platforms each begin just west of the historic Riverside Avenue bridge across the rail line and run east. This bridge was built in 1871 and relocated in 1894 as written on a historical plaque. The east side of the Riverside Avenue bridge has a separate (and clearly added later) sidewalk with chain-link or metal barrier (to protect the catenary wires) fenced walls that serves as the crossover between platforms with an exposed staircase directly down to both platforms.
For amenities, the Grand Central-bound platform contains a small brick station house towards the eastern end of the platform, with a flat canopy structure covering about two cars, and a very 70's looking blue and orange windscreen back. The only amenity on the New Haven-bound platform is a single black shelter in the middle of the platform. Both platforms have an ADA ramp and staircases down to small parking lots. The station is definitely not wheelchair accessible because getting between the platforms step-free requires going via nearby streets and the sidewalks are steep in places.
All Photos: 6 October, 2018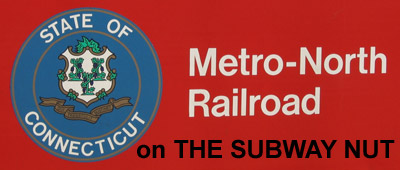 Last Updated:26 February, 2019
All photos are by Jeremiah Cox
This website is not allifiated with MTA Metro-North Railroad, there official website is here
This Website is maintained and copyright © 2003-2023, Jeremiah Cox. This website is not affiliated with any transit provider. Please do not remote link images or copy them from this website without permission.