Cos Cob is a Metro-North Station in Greenwich, Connecticut on the west side of the Mianus River bridge. The Riverside Station is just 0.6 miles east of this station and the public timetable list both stations at 30 miles from Grand Central. Walking between the stations is approximately 2 miles because it requires walking north to Route 1 (Putnam Avenue) since the railroad bridge nor the I-95 bridge that crosses over the western end of the station platform has pedestrian sidewalks.
The station consists of two high-level side platforms built in the 1970s for the Cosmopolitan Cars. The underpass of Sound Shore Drive just east of the platforms, provides the station's pedestrian cross-under. This underpass has a sidewalk enclosed by a fence made up of long wooden boards to prevent pedestrians from walking in the street. Staircases lead up to a low-level area a short-ways before the modern high-level platforms begin. The platforms each have a ramp up to them from the parking lots along each platform, but Sound Shore Drive provides no wheelchair accessible cross-under between the platforms.
For amenities the Grand Central-bound platform contains a historic built circa 1894 single-story Red station house. This building is a twin (saving the railroad money on architects) to the station in Old Greenwich and similar in style to other New Haven Line Stations. Inside the station house is a coffee bar/newsstand, called Orangeside, open during weekday mornings for commuters, there is also bench, and I presume a public restroom. This building leads out to the Grand Central-bound platform that has a small canopy structure that covers the station's TVMs. In addition to the portion under the Connecticut Turnpike (I-95) the only other waiting amenity on the New Haven-bound platform is a single black bus shelter for waiting passengers.
All Photos: 6 October, 2018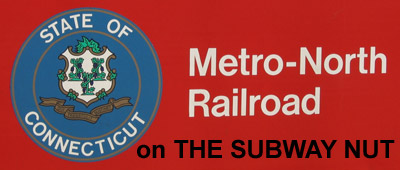 Last Updated:2 May, 2019
All photos are by Jeremiah Cox
This website is not allifiated with MTA Metro-North Railroad, there official website is here
This Website is maintained and copyright © 2003-2023, Jeremiah Cox. This website is not affiliated with any transit provider. Please do not remote link images or copy them from this website without permission.