Nanuet is the middle station in New York State on the Pascack Valley Line which is owned by Metro-North but trains are operated under contract by New Jersey Transit. The station has a single narrow low-level side platform with the unique light blue (and not the standard NJT purple of the line) Metro-North platform signs and plenty of advertisements. The quite long seven car platform begins at the grade crossing of Prospect Street and runs south. It is along the main station parking lot (a total of more than 450 spaces at this station), with grass between it and the parking lot which is at a slightly lower grade so numerous staircases lead up to the platform. Orchard Street loops around across the track from the platform with no fence and just some greenery in between. This is before Richardson Mower and Power Equipment's warehouse which is the view from the southern portion of the platform. Some of the parking is in another lot north of the station accessed via a driveway that follows the tracks north of the Prospect Street grade crossing. Along the platform is the "station house." It is a black glass enclosed shelter with 3 doors inside and contains the station's two TVMs. Next is a more modern canopy that has orange grey beams holding up a green pointed roof. At the southern end of the low-level platform is a ramp up to a mini-high platform with a simple metal bench and bridge plate, making the station wheelchair accessible. All of the ADA parking spaces are at this end of parking lot.
All Photos taken on 12 August, 2012 on a visit by bicycle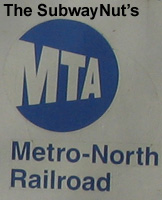 Last Updated:18 July, 2015
All photos are by Jeremiah Cox
This website is not allifiated with MTA Metro-North Railroad, there official website is here
This Website is maintained and copyright © 2003-2023, Jeremiah Cox. This website is not affiliated with any transit provider. Please do not remote link images or copy them from this website without permission.