Spring Valley is the terminus of the Pascack Valley Line co-operated by both New Jersey Transit and Metro-North. Metro-North pays New Jersey Transit in full for the 3 daily express trains that only make the three New York State Rockland County stops and then run non-stop to Secaucus and then Hoboken Terminal. The line has a single track and a single low-level side platform that begins at the grade-crossing of Main Street; and runs southeast. No passenger service continues beyond Main Street, but trains heading to and from the Woodbine Yard (with 3 long tail tracks, each that can hold multiple trains) continue the half-mile crossing 3 more grade-crossings to go to and from this train yard. Previously the track continued all the way to Suffern on the Main Line/Port Jervis Line, but this connection has been severed. This side platform has a mini-high platform (with a bridge plate required) at its southeast end for wheelchair accessibility.
Along the platform has a small postwar brick station house with Spring Valley written in modern silver letters on the side, and cinderblock walls. It contains a small waiting room and when I visited in 2014 a Golden Crust Caribbean bakery and Grill. Towards the western end of the platform are a series of two bus stops, plus four islands for buses across from the bus depot, perpendicular and away from the train platform. These all have black bus shelters for waiting bus passsengers. This a hub for Spring Valley Jitney local buses, Transport for Rockland county buses, and inter-county Coach USA buses, and the Hudson Link (formerly the TAPPAN ZEExpress) that runs across the Mario M. Cuomo (former Tappan Zee Bridge) across the Hudson River to Tarrytown on the Metro-North Hudson Line (this how your webmaster continued after riding a train here back in 2005 when the Pascack Valley Line lacked passing sidings and had only peak direction weekday service, all day service began in October 2007 after passing sidings were built) and White Plains.
To the east of the train station and bus islands, is the station's 207 space paid parking lot. This lot included a sign in 2014 saying to park here to take the TAPPAN ZEExpress to the Tarrytown for the Hudson Line or White Plains for the Harlem line, and no reference that a two-seat ride entirely by commuter train via the Pascack Valley Line is also an option into New York City. Some parking spaces are also labeled for bus passengers only. This parking lot is entered from Franklin Street by passing by/through the station's bus loop (there are no clear buses only signs at its entrance), with a unique exit driveway at it's southern end that has a pole across it and a 7 foot clearance due to low-hanging trees.
Photos 1-12 taken on 10 August, 2006; 13-41: September 4, 2015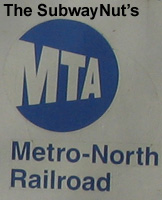 Last Updated:18 July, 2015
All photos are by Jeremiah Cox
This website is not allifiated with MTA Metro-North Railroad, there official website is here
This Website is maintained and copyright © 2003-2023, Jeremiah Cox. This website is not affiliated with any transit provider. Please do not remote link images or copy them from this website without permission.