Grand Central Terminal has largest number of rail platforms of any train station in the world all underground, with 44 platforms for Metro-North trains, located on two-levels, and a total of 67 tracks, with 43 in use for passenger service. All platforms are high-level and all tracks electrified via third rail. Historically trains on the New York Central and New Haven Railroads left for points as close as Westchester County, and as far away as Chicago, Montreal, and various points in New England.
Train service from the terminal is extremely frequent with at least (pre-COVID) three trains per hour on each of the east of Hudson Metro-North Lines: twice hourly electric locals (reduced to hourly at many hours due to the COVID-19 pandemic) on the Hudson, Harlem, and New Haven Lines to Stamford, North White Plains, and Croton-Harmen. Express trains run hourly on the Hudson Line (using Shoreline cars and dual-mode locomotives) to the line's farthest point in Poughkeepsie and hourly on the Harlem Line, using third rail only electric Metropolitan trains to Southeast, where half of the trains connect to the every two hours diesel shuttle train up to Wassaic. New Haven Line express service to New Haven is hourly (or better for many hours of the day), running with dual-mode (both third rail, and catenary powered) Cosmopolitan M8 trains to express trains. These trains connect with M8 electric hourly shuttle trains to New Canaan, and less frequent diesel shuttle trains to Danbury and Waterbury. During rush hours there are through electric trains to New Canaan, and dual-mode trough trains to Wassaic and Danbury. The New Haven Line's Waterbury branch is the only East of Hudson Metro-North line to not receive any rush hour one-seat ride service from Grand Central.
Historically, all Amtrak trains running north up the Hudson to Albany left from Grand Central Terminal until the Empire Connection opened on April 7, 1991, consolidating Amtrak operations in New York City across town at Penn Station. These trains included the Lake Shore Limited (successor of New York Central's famous 20th Century Limited), today's Empire Service Trains, plus the Adirondack, and Maple Leaf. Amtrak service has returned to the station on a few occasions, including in February 2003 when a barge hit the central beam of the Spuyten Duyvil Bridge (used by Amtrak trains to cross the Harlem River and join the Metro-North Hudson Line in the Bronx) and from June through August 2018 to allow for infrastructure work in Penn Station and along the Empire Connection.
All terminal tracks and platforms are located underground with most having cream painted columns, and green ramps from the main station down to them (if required). The stop is named Grand Central Terminal because all trains terminate or originate at the station, no train service was ever designed to go through the station, making Grand Central a terminal and not a station.
The tracks and platforms can be classified using three different unique types:
Upper Level tracks and platforms: these are tracks 11 through 37, and are accessed from the Upper Level-Main Concourse, including the Main Concourse and Graybar Passage. These tracks all end at bumper blocks just beyond the main gates from the main level, with island platforms between them Their numbering starts from the east (Lexington Avenue side), tracks 2 through 10 are east of track 11 and are just storage tracks, and goes west. These tracks were originally used primarily by long-distance trains on both the New York Central and New Haven Railroads.
Loop Tracks: (tracks 38 through 42) these platforms were originally used by terminating long-distance trains to reverse direction, with trains entering the station on track 1 (the far track on the eastern Lexington Avenue side) and looping beneath the main station before arriving at two island platforms and a side platform for track 38 (next track 37 located at a higher, different level). These platforms are accessed by ramps down from the Biltmore Room at the western edge of the station. The Biltmore Room was the former arrivals area and has a restored chalkboard that lists historic trains, where in the past station staff updated it with the arrival times of arriving long-distance trains.
Lower Level Tracks and Platforms: Tracks 101 to 115 are 15 tracks that have 11 platforms and are accessed from the lower level (now dining concourse) and were designed for use by commuter trains. Many of these tracks have multiple platforms; and are accessed via a staircase beyond the bumper blocks, a ramp leading to a staircase a short-ways up the platform, along with two elevators down to an accessable area beyond their bumper blocks from the lower-level dining concourse.
The station also has two additional platforms on the small Lexington (Waldorf-Astoria yard) for tracks 51 through 65, that are no longer in passenger service. These platforms were used in the past by US presidential trains staying in the Waldorf-Astoria with an elevator directly up into the hotel, allowing for a quick presidential escape if needed.
Photos 1-7: December 5, 2004; 8-9: June 9, 2008; 10-11: October 31, 2012; 12-15: November 2, 2012; 16-60: May 12, 2013; 61-63: June 30, 2014; 65-72: July 17, 2015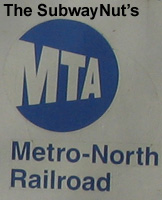 Last Updated:11 December, 2020
All photos are by Jeremiah Cox
This website is not allifiated with MTA Metro-North Railroad, there official website is here
This Website is maintained and copyright © 2003-2023, Jeremiah Cox. This website is not affiliated with any transit provider. Please do not remote link images or copy them from this website without permission.