Breakneck Ridge is a weekend hikers only stop on the Hudson Line used by Hikers wishing to do the steep, scrambling hike up Breakneck Ridge or other less strenuous hikes in the Breakneck Ridge region. Service is extremely limited on weekends and holidays only: three trains two northbound in the morning, one stopping midday (only added in 2014), and two afternoon/evening returning trains. The station consists of two tiny sets of wooden steps where the cab car normally stops (rear going northbound, front southbound) onto the ballast, a very simple pedestrian bridge is just beyond this and a trail to Route 9D, Breakneck Ridge Road. The platforms are 1,000 feet offset from each other with the northbound steps 1,000 feet farther south than the Grand Central-bound platform that also has a sign. Cold Spring is the closest regular service stop, just under 3 miles away.
Photos taken on 14 September, 2014 on a visit by car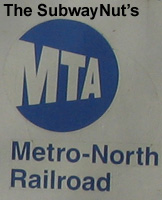 Last Updated:2 July, 2014
All photos are by Jeremiah Cox
This website is not allifiated with MTA Metro-North Railroad, there official website is here
This Website is maintained and copyright © 2003-2021, Jeremiah Cox. This website is not affiliated with any transit provider. Please do not remote link images or copy them from this website without permission.