Wollaston is the only non-renovated red line station with an island platform on a fairly low embankment with the standard concrete brutalist architecture and canopied middle of the platform. A single staircase/up escalator lead down to a sunken fare control area, whose slightly underground design makes it prone to flooding during rainstorms. This area leads to short staircases back up to street level to leave the station. The east end is a large parking lot with 550 parking spaces. the otherside leads out to a what resembles a street stair to Newport Avenue and local businesses across from where Brook Street ends at a T-Juction.
All photos taken on 28 June, 2011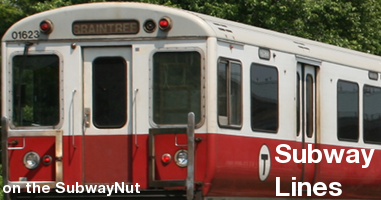 Last Updated: 16 July, 2011
This website is not affiliated with the Massachusetts Bay Transportation Authority. Their official website is here
This Website is maintained and copyright © 2011, Jeremiah Cox. Please do not remote link images or copy them from this website without permission.