North Quincy has a single island platform with two exits at each end of the platforms. These each have a staircase/up escalator and elevator to a small overpass where the faregates and FVMs are. The northern end leads out to two elevators and staircases on either side of the tracks, one down to the large parking lot east of the station, to the west it leads out to some commercial buildings. At the southern end the entrance is directly above the tracks where the station house leads out to doors at a bus loop on West Squantum Street. A staircase leads up to that street from an end of one of the parking lots signed for the MBTA although passengers must walk briefly on a regular sidewalk
All photos taken on 28 June, 2011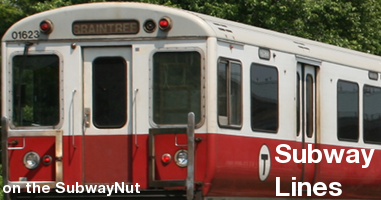 Last Updated: 19 July, 2011
This website is not affiliated with the Massachusetts Bay Transportation Authority. Their official website is here
This Website is maintained and copyright © 2011, Jeremiah Cox. Please do not remote link images or copy them from this website without permission.