JFK / UMass

Andrew
Savin Hill

North Qunicy

Columbia
Commuter Rail

JFK / UMASS is the station where the two red line branches either join up or split. The stop has two island platforms for the two tracks for each branch meaning inbound passengers have two different platforms from where the inbound train might depart from. The only indication is by listening to the automated station announcements that say "The next inbound Red Line train to Alewife is now arriving on the Ashmount (or braintree) platform." There is no indication before this of the platform for the next train. North of the station that tracks join each other and become the two tracks that are the remainder of the red line's route. The station itself is located at street level and is mostly a major bus transfer point. Each platform is canopied for its entire length and has a relatively confusing exit situation (via High Turnstiles) but only a single entrance in the middle of the station where the stations only faregates are. Starting at the southern end of the platforms is a staircase up to a small overpass that connects to an employee building beyond the commuter rail platform. This leads out to a single high turnstile to walkway to a staircase beneath I-93 and is singed for Sydney Street where a path leads. In the middle of the station is where the main faregates are with another staircase up from Sydney Street (across from Moseley Street) that leads to the main lobby area with the overpass continuing to staircases down to the bus loop beyond the commuter rail platform to the east side of the tracks. After the TVMs staircases and elevators lead down to each platform. An additional passageway outside of fare control runs above the Braintree platform to the northern end of the station where it is joined by staircases that lead up to high exit only turnstiles at their northern ends before ending at Columbia Road's overpass over the subway tracks.
Photos 1-11 taken on 23 August, 2009. The rest on 29 June, 2011.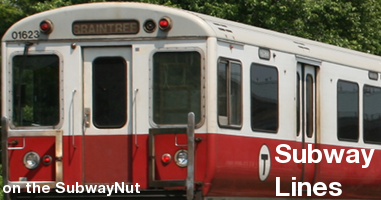 Last Updated: 9 July, 2011
This website is not affiliated with the Massachusetts Bay Transportation Authority. Their official website is here
This Website is maintained and copyright © 2011, Jeremiah Cox. Please do not remote link images or copy them from this website without permission.