The Andrew Station is a huge bus connection station with two underground side platforms for the red line. The stations exits are quite simple and are in the middle of the station. From the outbound platform there are high exit only turnstiles directly on the platform that lead to two escalators up to the middle of the bus bays (7 different bus lines top at the station) which are situated beneath a large canopy structure right off of Dorchester Avenue, on a street named Transit Street on Google Maps. To enter the station staircases and an elevator lead from the bus loop area to a mezzanine where the faregates are and to two staircases and an elevator down to each platform.
All photos taken on 27 June, 2011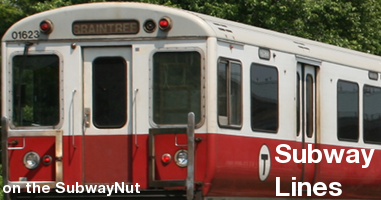 Last Updated: 19 July, 2011
This website is not affiliated with the Massachusetts Bay Transportation Authority. Their official website is here
This Website is maintained and copyright © 2011, Jeremiah Cox. Please do not remote link images or copy them from this website without permission.