Kendall/MIT Station is an underground red line station and one of the few with two side platforms and no crossover or under with fare control directly along the platforms. The stops historic walls that were originally mosaics have been covered up like almost all the others on the MBTA but the standard pictures of the neighborhood do include photographs of MIT nerds doing their trades in previous years. Each platform has two entrances. A secondary one has a street stair from each side of Main Street at Hayward Street down to a few fairgates on each platform. There are no FVMs at that entrance and signs say enter with CharlieCards/Tickets. The main entrance consists of an elevator and staircase/escalator down to main fare control areas at the level of each platform on eitherside of Main Street right in the middle of its campus by its COOP.
Photos 1-15 taken on 27 June, 2011, 16-19: 21 December, 2013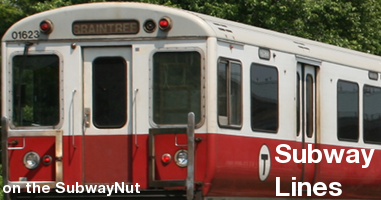 Last Updated: 22 July, 2011
This website is not affiliated with the Massachusetts Bay Transportation Authority. Their official website is here
This Website is maintained and copyright © 2011, Jeremiah Cox. Please do not remote link images or copy them from this website without permission.