Lechmere is the northern terminus of the green line trolley and presently only 'E' Heath Street trains make the northern trip all the way across the Lechmere Viaduct, the last elevated section remaining on the green line, a national historic landmark and one of the last real elevated sections of track in all of Boston. The trolley loop itself is at street level but trains leave the elevated just before the station. Incoming trains enter and discharge there passengers to an exit platform with an old wooden canopy that also covers the bus loop used by the 4 bus connections further into Cambridge. The roof is low enough to warrant No CNG signs at the entrances so these routes can only be served by diesel buses. The exit is directly along the O'Brien Highway and across it is the stations 347 space parking lot (weekday availability <1%, price as of 2011 $5.50). Trains than turn around using and outside loop, in the area in between there is a second loop plus two more sidings for storing trollies. Passengers arriving to the system walk (or get dropped off by a terminating bus) at the stations little drop-off loop (MBTA buses only, not a kiss-n-ride) right off of Cambridge Street. Here another old wooden enclosure covers the fare gates and lead out to a very narrow area for boarding the trollies. On this platform is a little concession window with a decaying sign that says 'Trolley Snacks, Hot/Cold Food.' Passengers wishing to get between the respective platforms can use a pedestrian underpass just south of the station, or walk north of the trolley loop and down 2nd Street using local streets.
All photos taken on 14 December, 2011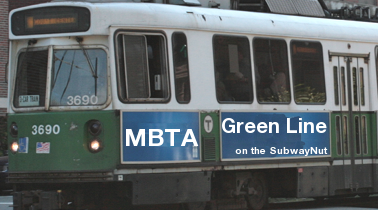 Last Updated: 21 December, 2011
This website is not affiliated with the Massachusetts Bay Transportation Authority. Their official website is here
This Website is maintained and copyright © 2011, Jeremiah Cox. Please do not remote link images or copy them from this website without permission.