Brookline Village is a recently rebuilt accessible 'D' Branch station with a tactile warning strips alongeach side platform, each also has its own wooden enclosure shelter. There are also two wheelchair ramps at the front end of each platform. The main station entrance is along the outbound platform where the new modern Charlie modular enclosure is in the wide plaza entrance along Station Street where there are a few parking meters. There is another entrance from Pearl Street to the narrow inbound platform that can get quite crowded due to the station's popularity.
Photos 1-5 taken on 18 August, 2005, 6-20 on 15 December, 2011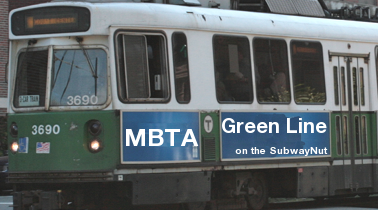 Last Updated: 21 December, 2011
This website is not affiliated with the Massachusetts Bay Transportation Authority. Their official website is here
This Website is maintained and copyright © 2011, Jeremiah Cox. Please do not remote link images or copy them from this website without permission.