Bowdoin is the terminus of the Blue line and is accessed via a single entrance perched into a plaza in the small Cardinal Cushing Park along Cambridge Street. This entrance as a staircase and up escalator that lead to a small fare control area at the junction of the two curving platforms (that become a connected island south of it) that facilitate the loop Blue Line trains use to reverse, the platforms are extremely short and all 6 cars of a 6 car train can platform on the terminating westbound platform. Only 4 cars of a 6 car train can platform on the originating outbound platform and this stop is the only place where push to open door buttons on the sides of Blue Line trains are ever used. The platforms have simple yellow tiled walls and lots of tiled pillars
All photos taken on 27 June, 2011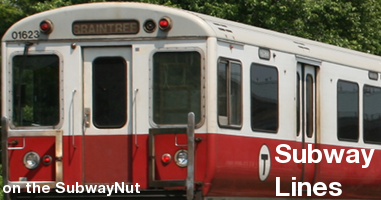 Last Updated: 3 July, 2011
This website is not affiliated with the Massachusetts Bay Transportation Authority. Their official website is here
This Website is maintained and copyright © 2011, Jeremiah Cox. Please do not remote link images or copy them from this website without permission.