This past June 4, 2017 I found myself with a Monday I had to take off from work (working an event the following Saturday), and no plans, my friend Robbie needed to go to Chicago to catch a flight after visiting so I decided to spend the night in a suburban Chicago hotel and try and fully bike and 'finish' a Metra Line.
I previously shared some photos of the Chicago railyards from earlier in the day. This blog post begins at around 3:00pm when I leave Robbie to take the Blue Line out to O'Hare and I decide to start with a little Metra jaunt on a different line (armed with an $8 Weekend Unlimited Pass) before heading out to Elgin for the night. The choice of where to ride is easy, only the Union Pacific North Line has a single train leaving downtown Chicago in the 3 o'clock hour (a semi-express) of all the 6 Metra Lines that run on Sundays out of Union Station and the UP Lines out of Ogilvie Transportation Center. Most Sunday service on Metra is every 2 hours. Entering Ogilive Transportation Center–(3 Photos) is eerily empty since there's just one train about to leave, and it's a Sunday afternoon.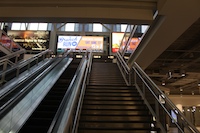 I head up and board the train, still unsure of my destination. Looking at my phone (for maps, I realize it makes sense to ride the  and timetables I get off at Ravinia–(24 Photos)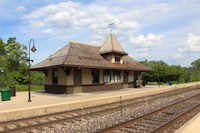 Then it's a very easy ride down a bike path to the special event Ravinia Park–(14 Photos)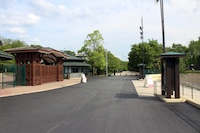 It's then under a half-mile to Braeside–(17 Photos), the next regularly stop down the same bike path.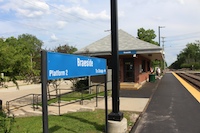 After it was not a very fun 3 mile bike ride across very busy Lake-Cook Road to the namesake Lake-Cook Road–(20 Photos)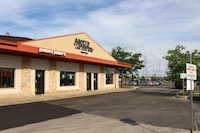 I then rode south one more stop to Northbrook–(17 Photos)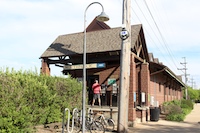 From there I took the 5:33pm Inbound train, which was a bit of an adventure. At around the Mayfair Station the train lost HEP. After about a 5 minute delay while the engineer climbed to the rear locomotive, (since as an Inbound train we were running in 'push' mode), and then a smaller further delay at Graryland it was announced that we would be continuing into Union Station without Air Conditioning or ventilation. A wise choice for just a short ride, compared to stranding passengers within 20 minutes of their destination.
I get off at Western–(24 Photos) at 6:14 (6 minutes late) to transfer to the Union Pacific West Line. As I wait a number of announcements are made that this train is running late due to mechanical difficulties (the trainset I got off of was turning at Union Station).  My train due at 6:49, arrives before the Milwaukee North Line train (scheduled for 6:44), with my train making tons of "This is a Milwaukee West Line train to Elgin, not the train to Fox Lake" announcements as it stopped.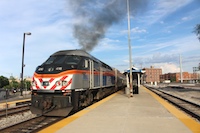 I have a preview of the stops I'm going to biking between and photographing tomorrow before we get to National Street–(26 Photos)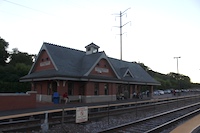 I get off and get some photos of the station, plus a few across the River as I head to a hole in the wall Mexican Restaurant to pick up dinner. I then get a few photos of the Elgin–(19 Photos) station in the darkness.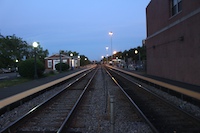 It's then an okay ride in the dark (I have bike lights), including through the campus of Judson University to the TownePlace Suites by Marriott Elgin/West Dundee, the only frustrating part of the ride is I could have taken bike trails the whole way had a bridge across the Fox River been mapped by Google.