Bronxville is the station for one of the model early 1900s 'commuter suburbs.' The station has a historic 1916 station house built in the Spanish Mission revival style, the same year that Pondfield Road was grade separated at the station and depressed into an underpass. The station today has 12-car long two side platforms for the 3-track line, meaning the middle track doesn't platform. The platforms' fencing is tubular and painted brown to match the historic design of the depot. Along the middle of each platform are access driveways that Pondfield Road also crosses under. Google calls these Station Plaza, along the New York-bound platform (that passes the station house) and Depot Plaza along the northbound platform.
The station plaza contains the historic 1916 white with a Spanish tile roof station house. This station house is large, containing space for a currently unoccupied business plus a waiting room and ticket office. The platforms are canopied with simple flat brown structures for two cars in the middle of the northbound platform and 450 feet along the New York-bound platform beginning near the depot and running south. The sidewalks on each side of the roadway tunnel are raised above the roadway since pedestrians require less clearance. The aforementioned ramps rise up to near each platform from the south sidewalk, the north sidewalk has more direct staircases. These staircases and ramps end at ground level (since the platfroms were originally low-level with staircases and ramps up to each platform). The saircasese are exposed to the elements, while the ramps are surrounded by Spanish roofed structures like the station house. There is a second pedestrian tunnel at street level just under the extreme southern end with freshly painted walls, a single staircase to the southbound platform, at a walkway between a building and a private parking lot to Parkway Road and two up to the northbound platform. The portals here are conconcrete enclosed and white. This connects to the main parking lot along the northbound platform off Kraft Avenue. All other access to the southbound platform is only in the middle near station plaza.
Photos 1-5: 5 December, 2004; 6-14: 25 April, 2005; 15-71: 25 July, 2015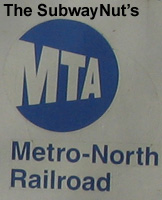 Last Updated:4 June, 2016
All photos are by Jeremiah Cox
This website is not allifiated with MTA Metro-North Railroad, there official website is here
This Website is maintained and copyright © 2003-2019, Jeremiah Cox. This website is not affiliated with any transit provider. Please do not remote link images or copy them from this website without permission.