Ansonia is another simple station is disrepair along the Housitonic River (its just behind the concrete wall on the otherside of the tracks) on the neglected Waterbury Branch. The is along the waterfront in a town that once had quite a bit of manufacturing. The station itself is low-level with a concrete platform that doesn't look like it's been repaved in many, many years. There is a long wooden canopy along the platform that desperately needs to be repaited many colors are visible. The only other platform amenity is a gloorified bus shelter waiting area to protect passengers from the wind where is a small display with the timetable. The station like the rest on the Waterbury shuttle has no Ticket Vending Machine so tickets can be purchased on board the train with no surcharges.
All Photos: 12 June, 2008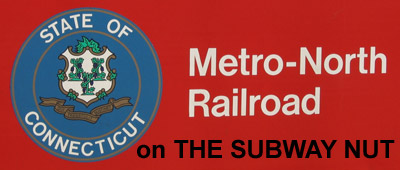 Last Updated:20 November, 2013
All photos are by Jeremiah Cox
This website is not allifiated with MTA Metro-North Railroad, there official website is here
This Website is maintained and copyright © 2003-2019, Jeremiah Cox. This website is not affiliated with any transit provider. Please do not remote link images or copy them from this website without permission.