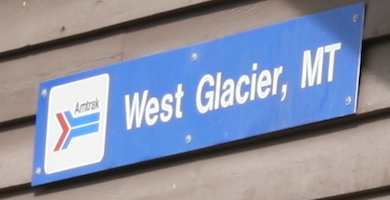 West Glacier, MT is the Amtrak Station at the western gates to Glacier National Park. It is located alongside the intersection of US-2 (that goes around the southern perimeter of the park) and Going-to-the-Sun Road (the main road that goes through the National Park across the Continental Divide to the other side). The station is completely unstaffed but does have an enclosed waiting area that is open and closed by a caretaker. The station's building is now used by the Glacier Natural History Association, who have restored it. The white (non-Amtrak font) signs say Belton, the station's original name before the Great Northern Railway decided to build a genuine station to promote tourism in Glacier National Park.
Between 2011 and 2013 the station recieved a mini-ADA modernization the simple platform that has ballast along its edge now has a series of modern West Glacier, MT signs. Towards the eastern end of the platform is a tiny mini-higher ADA platform, this new part of the platform is maybe 10 feet long with gradual ramps up to it down from each end of the regular platform. There are two tall black lamposts and a series of 3 on each side, smaller black light squares to light the ramps incline. Behind the little mini-high platform is a wheelchair lift enclosure.
Photos 1-7 taken on 17 May, 2009 on a quick stop, visiting by car, 8-13 on 28 June, 2013 out the rear window of the Eastbound Empire Builder.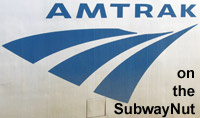 Last Updated: 19 May, 2009
This website is not affiliated with Amtrak, their official website is here, A source I have used countless times while compiling this section is Amtrak's Great American Stations
This Website is maintained and copyright © 2003-2019, Jeremiah Cox. Please do not remote link images or copy them from this website without permission.