Whitefish, MT is a service stop on the Empire Builder, so each train stops for about 20 minutes. The station has quite a large, historic, three story station house, that is slightly set back from the platform by a few small patches of grass. The station house is in the Tudor style, built in the 1920s. The station's waiting room is fairly small, still with wooden benches and a staffed ticket window. There is also a window for a Hertz Car Rental with a sign saying its one of the original Hertz Franchises. On either side of the station parked on display are a historic Great Northern Railway Bus, and a Great Northern Railway diesel locomotive
October 2011 Update: The Whitefish Station is presently a total mess with a new ADA complaint concrete platform being installed and the standard station lampposts that have popped up at almost every station on the Builder. The stop has had to temperarily discontinue baggage services along with trash collection from the train. Trains are also having to make multiple stops on the portion of the platform that is presently open. The finishing of construction (2012) has resulted in a new modern ADA compliant platform with a long fence and a line of modern lampposts plus plenty of Whitefish, MT signs.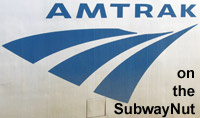 Last Updated: 11 November, 2011
This website is not affiliated with Amtrak, their official website is here, A source I have used countless times while compiling this section is Amtrak's Great American Stations
This Website is maintained and copyright © 2003-2019, Jeremiah Cox. Please do not remote link images or copy them from this website without permission.