East Glacier Park, MT (although all the station signs just say Glacier Park, MT) is the main gateway station into Glacier National Park. The station house is in a large log cabin that was built by the Great Northern Railway as a way to promote tourism into the Park from the Rail line. It is a full service Amtrak station, and was a fresh-air stop when I was on the Eastbound Empire Builder. It is only open during the summer months (May-September), and during the winter months Amtrak service in the area is moved 18 miles east to Browning, MT, down in the plains on the Blackfeet Indian Reservation (This stop is much more primitive). The station house is in the style large log cabin that fits right into the surrounding area. The waiting room also has an historic feel with historical information panels along the walls and wooden benches, as well as some artwork and old-fashioned signs about Amtrak.
Photos 1-6: 13 July, 2006, 7-26: 17 May, 2009 on a quick stop by car, 27-34: 28 June, 2013 out the rear window of the Eastbound Empire Builder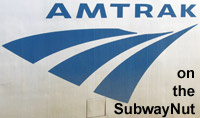 Last Updated: 19 May, 2009
This website is not affiliated with Amtrak, their official website is here, A source I have used countless times while compiling this section is Amtrak's Great American Stations
This Website is maintained and copyright © 2003-2019, Jeremiah Cox. Please do not remote link images or copy them from this website without permission.