I booked (expensive) plane tickets on United's non-stop service to Bangor, Maine a couple of months ago for Louise and I to go to family wedding (and to eat lobsters) on August 31. A few weeks before I was reading up on Chicago 'L' happenings and discovered we'd be transiting in downtown Chicago from the South Shore Line to the Blue Line out to O'Hare on opening day of the CTA's newest station. Timing between the South Shore Line schedule and our United Flight was such that we had a good extra hour so an ever slight detour to the station on our way to the airport was clearly in order.
The day started with me working from 7:00am to Noon to conserve vacation time before I got picked up by Louise (and her Dad to take the car home) for the short drive to the South Bend Airport South Shore Station. We got to the airport with plenty of time for the 12:49 train. From there it was the long, two-and-a-half-hour but uneventful ride on the always single-level (to South Bend) South Shore Line ride into Chicago. Wanting to pick up sandwiches at a place Louise knew about, we got off at Van Buren Street, bought a sandwich for the rest of our CTA to Plane to rental car long journey to Maine, and walked to the loop.
We got to the loop and walked under Wabash to the new Washington/Wabash–(37 Photos) station.
With a rolling suitcase we decided to take the elevator (the escalator wasn't working yet) to the mezzanine. At first I thought there were two elevators for all 3 levels until we got closer when I realized there were two elevators in the same shaft one street to mezzanine, and one mezzanine to platform. The street elevator had a button for a lower level, perhaps it's additional access to the Chicago Underground Pedway. We didn't try pushing it. The elevator smelled nice and new.
Once on the mezzanine we re-loaded the Ventra Card and entered fare control. Some neat murals line a large non-public area area in the middle of the mezzanine between the staircases up to the platforms.
We then headed up to the platforms, where a train was approaching. With plenty of time before our flight we let this Green Line go so I could get plenty of photos of the new station.
Eventually we got on a Brown Line train for the 3 stop (today 2 stop) ride to Clark/Lake. I got some photos of the strip maps (the individual line map with just Washington/Wells, the system map with both) as our train stopped at Randolph/Wabash after a less than 1 minute ride from the new station (this stop closed three days later).
We got off at Clark/Lake. From the outer loop platform at Clark/Lake it was a down the switchbacks of 3 escalators and through a set of revolving doors before we finally reached the Blue Line platform–(2 Photos). There I found the O'Hare departure monitors in the ceiling, but they have unfortunately been turned-off.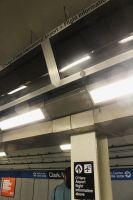 Then it was the long and jerky 17-stop Blue Line Ride out to O'Hare Airport . We got there at 3:47 with plenty of time for our 5:45pm non-stop flight to Bangor, Maine.
With PreCheck security was easy. The flight was non-eventful and arrived in Bangor 15 minutes early. Although we pulled up to a gate in the small international portion of the Bangor Airport and had a creepy walk through an odd sterile corridor that felt like it a mixture of abandoned and under construction to finally get to the airport exit. It was an easy check into our rental car (where we were upgraded to minivan, which proved extremely useful) and we made it to Gouldsboro at 10:30pm.
The wedding was fun. Although, on the way back there was no train and transit adventure. In the strange-way expensive airfares work it was cheaper to add on the joke (our flight flew 139 miles to go what is 84 miles direct) puddle-jumper flight from O'Hare to South Bend with an almost 4 hour layover. Luckily the we were able to stand by for an earlier flight from ORD to SBN Free of Charge so we had a more reasonable layover (and gave up sitting together).
Even though I haven't fully visited the Second Avenue Subway yet, at least the newest CTA station is here!