Well this post is only two months too late (and just before the next holiday long weekend). Over July 4th Weekend I went on a slightly insane adventure to visit my grandmother in Syracuse. The trip consisted of taking the Lake Shore Limited on Friday night to Rochester, where my parents picked me up in order to spend the afternoon with family friends who own a vineyard on the Finger Lakes, Saturday night in Syracuse, driving back to New York to then spend Sunday night and most of July 4th, before flying back home to South Bend on the one daily non-stop which is an evening flight on United Express (50 Seat ERJ-145).
The trip on July 1st, began with me leaving my sublease for the moment near Notre Dame around 8:00, a new friend had given me a ticket to this First Fridays Meet Me on the Island celebration that would have fireworks! A quick weekend trip meant just a backpack so I brought my luggage. Since South Bend is the last county in Eastern Time the firstworks didn't go off until after 10:00pm since dusk in Summer is so late.
I was thinking of walking to the Amtrak Station, only 2 miles away, but the neighborhood it's in is fairly rough and with an offer for a ride I decided not to, with an offer for a ride. Driving over to the station I realize just how dark the walk would have been (perhaps worse than the walk from downtown Charlotte to that Amtrak station Robbie and I once did).
This means I get to the South Bend Amtrak Station–(5 Photos) at 11:00pm, an hour earlier than necessary. I go up to the friendly agent to pick up my ticket. I'm ticketed all the way to NYP because it was cheaper; Saver fares only available to there, a SOB-SYR ticket would have been $30 more. I tell the agent I'm actually going to Rochester, he says my best bet is to probably just tell the conductor. He types a bit in ARROW before saying, "Are you definitely getting off in Rochester? I say yes, and he's surprisingly able to issue me a $12 eVoucher. I get some photos of the station and the waits a bit brutal. Around 11:30 a Pakistani student at Notre Dame just in for a summer course comes in an insists on talking to me. I try and read by book but give up and chat with him. He's taking the train to New York (where he has relatives), his family not understanding why. He has two weeks in the States after his course is over, and our conversation ends with me getting the National Amtrak timetable and recommending he take the Zephyr out to San Francisco.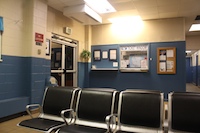 The station agent makes a few announcements that the train has made it through Porter, only losing 10-15 minutes and should be on time. Around midnight, I lead myself and the foreigner out to the platform. We start a trend of the couple dozen people also waiting for the Lake Shore Limited following us outside all. Almost immediately the boarding call comes from the agent (who then gets on the electric cart to drive the luggage out). He also tells us to walk down to the light-post with a 2 on it.
The long train arrives, just 10 minutes late; it has a single Amfleet P42 locomotive, the Viewliner Baggage Car, 3 Viewliner Sleepers, a Heritage Dining Car (on it's last legs, due to equipment shortages effective 7/20/2016 the diner would be removed and replaced by a second Amfleet II Lounge car, a poor substitute), an Amfleet II Lounge Car, 5 Amfleet II sleepers, and a deadheading (out of service, Amtrak why not make some extra revenue) Viewliner Sleeping Car bringing up the rear.
I head to the door, as the attendant asks for any parties of two, I don't recall any. I'm then given a seat assignment, in this one case I sort of am happy about the seat number. I know the train is full and it avoids the awkwardness of picking a seat mate. I'm already in the mindset of having the aisle seat.
This time the attendant is not worrying about gender. (See my Upgrade to Tucson Trip) My seat mate is a woman, she's a bit cute and younger than me. We don't udder a word to each other for the entire trip. The train leaves at 12:13am, 14 minutes late.
I listen to my music and doze on and off. I've brought a sleep mask from a recent JetBlue flight. It definitely helps a bit, wanting to pack light I only have a collared shirt for warmth and the rest of my cloths in a pillow case. I'm definitely aware of the Elkhart stop where my bus system runs, paying close attention (the best I can from an aisle seat) as we aslo follow US-33 down to Goshen. I'm fully awake though when we pull into Toledo–(13 Photos) at 2:51 am, 1 minute late. This gives me half an hour and I take a walk into the station and head to the passenger drop-off area. I skip the platform since I've experienced plenty of morning Lake Shore Limited fresh air stops in daylight.
It's another 3 hours of tossing and turning that is sleeping coach on an aisle seat in the middle of the night. The next thing I know were pulling to Cleveland–(43 Photos) 13 minutes early at 5:22am. Since it's only a few weeks after the summer solstice, this means a nearly half-hour layover as I step off the train into the dawn light. I also finally have a genuine description of the station!
As the photos show I have one of my best Amtrak fresh air stops ever, a photo set I may print some images of for a series called Dawn in Cleveland, and one I won't forget. I also finally get interior shots of the waiting room and the like.
I doze on and off some more as we leave Cleveland and continue east, Erie is definitely a town I want to stop in at some point. It has a super-neat Amtrak station up on a viaduct. If I'm ever driving the I-90 corridor it will definitely be a quick stop. I try and doze some more before we get to Buffalo-Depew–(7 Photos), where my seat mate gets off a few minutes late. I scooch myself over to the window and get off again for a few minutes.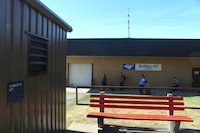 We leave Buffalo 7 minutes late at 9:06. I get two seats to myself for the final hour of the ride. I eat some breakfast I pack at my seat, no paying for the dining car Entering the Rochester Station–(20 Photos) is painful sitting in the back, we stop for awhile by what's clearly a high level platform under construction. First its a stop for baggage, then for the sleepers before the coaches finally pull up to the temporary 2 car platform. I get off and it's a crowded walk past passengers waiting to board, on a walkway through a construction site (the new station will have two tracks around an island platform on siding tracks away from pesky freight trains), past a temporary AmTrailer wherer I duck into for a few photos. The train finally leaves Rochester 33 minutes late at 10:23, the construction really dragging on what should be a 5 minute stop. I find my Dad outside with my mother blocking a row of parking since they can't find a place to park because the small parking lot for Amtrak is literally full!
It's a long day I spend drinking plenty of caffeine, dozing in the car and wishing being horizontal for the night wasn't some obscene amount like $400 more. I sleep very well that evening.
The following day we drive back to New York City. July 4th I spend mostly at home before heading to meet a few free friends for a drink near Penn Station before the fast New Jersey Transit ride to the awful and slow Newark Airtrain. I get on an 8:50pm flight back to South Bend I'll never forget. We taxi with random fireworks in all directions and take off to the big New York show just getting off. It's a cloudy night so no looking out at fireworks as we head west. We arrive in South Bend to random fireworks in all directions around 10:50. I have my roommate pick me up to save on dealing with awful and expensive South Bend taxicabs (Uber's been banished by the airport), we pass far too many cop cars packed in random places.