What made this trip work was finding out that an open-jaw ticket to Jackson Hole and home from any major West Coast Airport would cost roughly $420. Unforchunately flying any of the non-stop flights out of SFO would come with a $100 price premium. I end up trying Oakland (mainly to try the new BART peoplemover), what seals the deal is that this option connects me in LAX with a red-eye on one of the few 767 widebodies left flying transcontinental (until 15 years ago nearly all NYC to the West Coast non-stop flights were and until just a couple years ago all American Airlines flights on the NYC to LAX/SFO flights are, I did a little more checking and figured out that the one daily Delta 767 round-trip is the only widebody flight left).
As I'm spending my final minutes hanging out with Joey in his home. I'm tracking the departure times of the BART East Bay only line with its every 20 minute Saturday Schedule (it's MLK Day) service. Joey drops me off at MacArthur a little too close for comfort. I quickly put 8 more dollars on my BART Card, to cover the ridiculous, extremely high extra fare for the new Peoplemover. I run up the stairs as some people are coming down and tell me the San Francisco train has already left. I just make it to the 5:19pm Fremont train, waiting for the San Francisco train to get ahead since there is only one track Southbound through the tunnel under Oakland (northbound two). It's a quick fifteen minute ride and I get to the
Coliseum
–
(1 Photo)
at 5:35.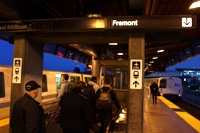 I let one peoplemover go by to get photos from the platform at night. I swipe out of BART, paying $8 for a ride entirely within the city of Oakland. I head up to into the Peoplemover Station–(20 Photos)
I then board the 5:42 peoplemover. The cable train feels slow, not zooming above traffic. It's now dark, front window photos are impossible! We go over the depressed neighborhood that was supposed to have a stop and I think about what this train could have become, both a Airport connector and a connector to serve an underserved community. One reason building this people mover took so long was the Federal Government denied funding at first because of a lack of cost-effectiveness and there was later a Title VI lawsuit claiming the connector was discriminating against the poor at the benefit of rich, airport-bound travelers.
At 5:48 we stop briefly at the ghost of the proposed stop that should have been built to serve the area surrounding the station where the main cable building is to switch cables. The automated announcements even say the train will be pausing briefly.
Then it's through a tunnel under a road with the airport coming into view.I'm at the new
Oakland International Airport
–
(23 Photos)
BART Station at 5:53.
My flight is at 7:35 so I'm definitely earlier than I need to be. I head into the Airport. I pick up paper boarding passes and pass the ticket counters of Air Norwegian that have chosen Oakland for their controversial LLC operations. I then head through security which is a disjointed line that seems slow at first but goes relatively quickly. I'm through my 6:20, I walk through the airport, realizing I need to buy dinner and am disappointed that I'm not back in LGA where I started this trip with its actual decent looking food options. Oakland clearly hasn't caught up to speed. I end up stopping at your standard overpriced, not very good Asian buffet after walking all the way over to Terminal 2 (connected by a long corridor) and walking back to my gate with it eating before boarding. I only have 40 minutes at LAX and don't want to be starving on my next flight.
My Delta Connection flight boards. It's a CRJ and I sit down with a chatty seat mate who lives in L.A. and flew up to the Bay Area to drive out to Tahoe for a weekend, we discuss the terrible snow. The flight takes off and I enjoy the nice view of the lights of San Francisco and the area as we follow the Pacific Coast down to L.A. with some clouds A good crew brings the drink cart through and I have a ginger ale. The only snacks onboard are pretzels. I look out the window as we arrive enjoying the sites of L.A. We pull up to the gate 20 minutes early at 8:40.
My connecting flight is at the adjacent gate and I realize I have a real layover. I regret buying my dinner in Oakland since the LA Airport has much more interesting choices. I end up going for a walk and find the newly reopened to the public narrow hospital-like corridors that now connect Terminals 4,5,6,7 and 8 at LAX. They are luckily decorated with neat murals and facts about flights.
I return to the crowded gate area because of a number of evening departures including widebodies to JFK, Sydney, and Atlanta, the gate area is roundish and feels like its designed for small narrowbody planes. I do find a seat and wait for the slow call of boarding groups. They board First Class First (calling it first class, not BuissinessElite, even though this is an International Lie-Flat 767, Delta actually has a few domestic/Hawaiian ones) saying no pre-boarding since the main cabin is still being cleaned.
Eventually they do the long pre-boarding and Zone Boarding, I'm sitting towards the back and in a relatively early zone, but announces that "The cabin crew have called us to say that all the overhead bins are full, meaning all luggage must be gate checked!" Eventually they ask anyone without baggage to check to board via the SkyPriority line. I don't want to part with my backpack and the gate agent actually says, yes it's small enough to fit under the seat in front of you. Perhaps it is but that would be one uncomfortable ride for my 6 foot frame! I board and there's something really nice about being on a widebody (even just a 767) for the first time in four years, I really need to leave the North American Continent. It is true that the overhead bins are getting fuller and the drop down design of these bins for a more airy plane doesn't help much. The bins over the center seats are clearly smaller than those over the windows. My backpack though fits in a center bin directly across from my seat easily and I grab a window at the two seater on what's a completely full flight. Were delayed loading all the extra baggage and by a woman who has put her suitcase (a small wheel aboard that would normally fit) in the central bins that has to be grabbed, identified and gate checked. Blankets are at every seat. I'm sitting next to an Asian woman who's nice and small, I defiantly take up a bit of her legroom with my feet since there no dividing seat tracks between aisles and windows. We finally leave the gate a few minutes late after 9:40. The woman doesn't stop talking on her phone until after we have pushed back. We get the Delta Safety video that has been Smiseked with the CEO welcoming us on board, and soon are on a long taxi out of LAX and take off.
During the flight I debate watching something on the IFE but instead listen to music on it. The USB cord is excellent, I plug my iPhone into charge but it doesn't have enough power to charge my iPad (just keep it from draining the battery). I try and zone out the best I can. I do have some water and snacks when they come through with the cart the first time. I regret getting the window seat, unable to signal the crew when they come through with water over my sleeping seatmate who I also don't want to disturb so I spend the entire flight seated. I never quite no what to choose on long flights, the aisle seat for the ability to get up. I do love looking out the window (on short flights the window wins every time).
Soon enough just after 2:00am PST the lights switch on as the crew comes through making the final preparations for landing. The torture of Red-Eyes! I see the darkened outlines of New York, the outlines of the city as we fly high overhead before heading around to land a bit early around 5:30am.
At 5:38 we stop short of the gate as we wait for the ground crew to pull us in. We're at the gate at 5:45, 15 minutes early but asked to stay in our seats because the police/peramedics are meeting the flight. They finally announce we can deplane before any get on. We're parked at gate B38. The farthest regular JetBridge. I take a slight detour down to the new Regional Jet pier that just opened last week. It has a new building smell from the paint and plaster. It feels like the standard, white strele concourse that could serve Regional Jets anywhere in America without the charactor the Pan Am WorldPort or JetBlue's terminal 6 once had.
Then it's a very long walk back to the main terminal down the now very long B pier that has replaced the now demolished PanAm WorldPort.
With my short detour I'm finally at the in-building AirTrain Station at 6:13 as a Howard Beach Train pulls in. I'm tracking the Q10 to take it to Lefferts to save $5 and guarantee a seat to nap in all the way home. I don't see any bus evidence at the JetBlue stop and using BusTime realize I shouldn't have to wait long for a Q10 Limited at its Lefferts Blvd stop. We get to Lefferts at 6:22 as an old high-level Artic is arriving across the road to a large crowd of employees heading home after their overnight shifts. I have perfect timing.
I'm at Lefferts Blvd at 6:39. There is a train on one track, the next train sign says the other track. An announcement is made that the next train to leave is the one entering the station. It has not in service signs and I think spent the night on the middle track of the el just beyond the station that is used for storage.
The long A train trek home, as I attempt to doze to music begins at 6:48
7:39-34 Street Penn Station transfer to "Long Island Railroad, Conrail, Amtrak" Comrail hasn't existed since 1983!
I'm off at A train at 8:03, two minutes late!
This finally ends the January Trip I desperately needed!