I have a good friend who weekends nearly every weekend at the beaches in Rhode Island. I've been trying to finish the Amtrak stations on the Northeast Corridor between Philly and Boston, with just Mystic and Kingston remaining (I got off at Kingston with this same friend but in the dark). Consulting the timetables, I realized that a weekend schedule was the only option for a layover in Mystic so this weekend I decided to make it a quick overnight getaway. I debated taking the first Metro-North train (a rare full-length of the New Haven Line local leaving Fordham at 5:53am) up to New Haven to do a points run to Wallingford that would return me on one of the through Northeast Regionals. I decided against it, too early and especially when I booked the trip on Monday and realized I could do a 300 point day to Westerly. Coming home was trickier. I needed to be back in New York for an evening engagement but afternoon Northeast Regionals have a high price premium. I ended up booking the 10:42am (at low-bucket) and settled for just 100 AGR points. I wanted to do a Shuttle points run but couldn't get the timing to work.
I leave the house a little after 7:00 to have leisurely 3 mile walk to Fordham. I get there around 8:00 and notice construction fencing; they're finally improving the narrow platform including building a new ADA compliant ramp to the Grand Central-bound plastic to an adjacent street. I notice a bunch of bicyclists on the platform. The 8:05 Express to Southeast stops and dwells for a good four minutes while the crew sorts out the cyclists telling them to walk back to rear cars. There must be a bicycling event going on because when the train leaves I notice a good 20 to 30 bikes all stacked up in the ADA. An empty White Plains local then stops 6 minutes late.


My New Haven Express actually arrives a minute early and we leave on time at 8:22 with a bunch of "This is the express, next stop Stamford, Connecticut" announcement. I'm getting on one of the few early morning weekend New Haven Expresses that stops at Fordham.
I hear "We will do that in New Rochelle and enter on the far track 5," briefly coming to a stop. Doing someone a favor who got on the wrong train?
I doze on an off and soon come to a stop briefly short of Rye. We then go through a work zone, their replacing a middle track. I'm so used to taking local trains and doing the Stamford switch its nice sitting on an express without the noise of stops. At Port Chester (8:46) we pass a push-pull diesel train, I assume its deadheading.
We get to Stamford just a few minutes late, stopping at 8:56.
As we approach South North walk they announce that trackwork (for nearly 8 months after a faulty new signal system) is still busituting the branch and to look for Leprechaun buses. Were an 8 open car train as they announce East Norwalk and middle 4 cars.
As we make every local stop there is a bunch of confusion for Stratford and Bridgeport, weekend trackwork is requiring bridgeplates with just four bridgeplates for Bridgeport. For the first time I actually hear a Metro-North conductor say car numbers 9205 and 9204, but generally just 3rd and 4th cars. NJT is really good about using car numbers for short platforms. We stop in Bridgeport at very narrow bridgeplates at 9:37. It's a good two minute stop.
Then Stratford for just two doors in the 3rd and 5th car, look for a member of the crew. The conductor even includes "We apologize for this but the trackwork needs to get done. Please exit only where you see a conductor, if you don't see a conductor that door won't open." Leaving Stratford we cross the Houssantonic River and half the bridge is open, the other half closed that we go over.
We arrive in New Haven–(12 Photos) at 10:07 across from Shore Line East. I'm not taking it, I'm on Amtrak to New London, the pricing and timing made more sense for an extra 100 AGR points.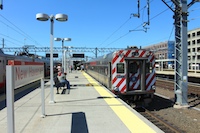 I go into the station pick up my tickets for 160, 162, and 164. The numbers all match. I also pick up a he new Amtrak timetable with the new Sprinter on the cover.
At 10:30 Track 2 posts for the Shuttle train connecting to my train and All Aboard. My through Regional still just says on time.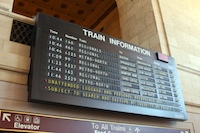 I head out to track 2 anyway since it's a cross platform transfer. The only other people there are the crew waiting for the Regional I'm taking. The Shuttle slowly fills up. At 10:38 they announce the train is arriving shortly on track 4 and people trickle out. I check my phone and find out the train is 7 minutes late. The 10:46 Metro-North leaves on time.
At 10:52 my first of 3 Regionals for the day comes in, 10 minutes late, it has 7 cars and I board the rear one for a on time departure going just one stop.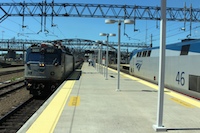 We leave at 10:54 at the same time as the shuttle before passing it. The conductor walks by and says he will get me in a little bit. He needs to restart his scanner.
We take the left hand track because of Shore Line East. We do pass the short little train at 11:15 just short of Madison, going the other way.
11:21 – The modernized Westbrook Station
11:25 –No sign of the conductor as we skip Old Saybrook.
I decide to be proactive and walk up to the cafe car to have my ticket scanned. The conductor apologizes saying his scanner had to be reset and scans my ticket. I find the last open set of seats in a closer car as we pass the beach. I think the PA system must be off because a conductor comes through verbally telling us to get off at the rear of the car. We arrive in New London–(20 Photos), where I'm taking an hour 100 AGR points layover at 11:42 to a bridge plate that doesn't fit well.
The hour I have in New London is extremely sleepy, no scheduled trains to pass except for possibly an Acela who's times are hard to know. I have a nice walk and read on a bench along New London's waterfront. At 12:22 I'm looking at the nearest swing bridge, open for marine traffic and hear a buzzer less than ten minutes before my next train.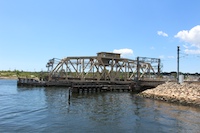 Train 162 arrives a few minutes early and there is someone who gets off with his suitcase and then runs back, looking for something before getting off.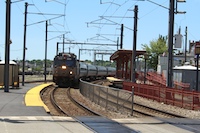 We leave 2 minutes late at 12:34 for my 12 minute ride (as announced) to Mystic. I find a seat (with a restricted view) and the conductor soon comes. I'm stepping off in Mystic–(80 Photos) at 12:44.
I do my full photo essay of the station including going inside and visiting tourism information. At 1:05pm, Washington-bound train #163 passes, it's supposed to bypass Mystic but slows down and makes a very quick stop, discharging one passenger.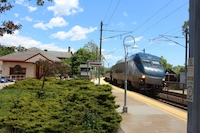 The rest of my layover sort of gets tedious and I kind of wish I had just asked my friend to drive the extra 9 miles and pick me up in Mystic. I start taking a walk with great expectations thinking at least something interesting at the Mystic Seaport must be free. Nope, everything is behind its entrance with a $25 admission fee that doesn't seem worth it for just an hour and a half. I then walk into town that feels packed with tourists. There narrow streets but huge parking lots behind these streets. Everything outside this town center feels like a strip mall with parking in front of the buildings, not behind, this is not pedestrian friendly but car oriented. I eventually find the historic library that is just finishing its annual book sale and go inside. I find wifi but no electrical outlets and use my elderly computer until its battery dies. I then head back to the station.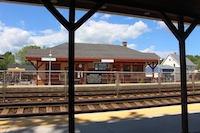 Train 164 arrives 10 minutes late at 3:54 for my second 12 minute ride to Westerly.I board, quickly sit down, even get a seat check. I'm off at Westerly–(2 Photos) at 4:05. My friend is waiting to pick me up.